Family Of Mexican Man Who Died While On Trip With Salvadoran Castaway Wants Answers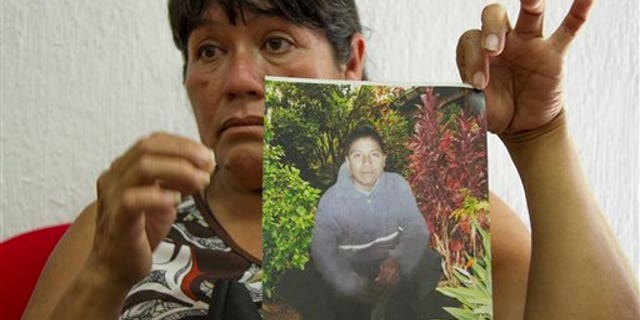 CIUDAD JUAREZ, Mexico (AP) – The father of a man who died on a fishing boat still has unanswered questions about his son's death after speaking on the phone with an El Salvadoran castaway who apparently survived the 13-month accidental journey across the Pacific Ocean.
Nicolas Cordoba Cruz, the father of 23-year-old Ezequiel Cordoba Rios, said he spoke to Jose Salvador Alvarenga but now wants to meet him in person, the El Paso Times reported Saturday.
"Ezequiel told him (Alvarenga) to tell his brothers to look after their mother and to tell me that he was going to be fine," Cordoba Cruz told the El Paso Times.
Cordoba Cruz was sobbing and holding the only two pictures he has of his son when he spoke to the newspaper from Ciudad Juarez, a Mexican border town, where he lives.
Alvarenga's small fishing boat made landfall on the Marshall Islands earlier this month, where he described a 6,500-mile (10,500-kilometer) journey from Mexico across the Pacific that began when the vessel was thrown off course by bad weather.
Doctors have said he was in strikingly good physical health, though mentally frail. Alvarenga has said he survived by eating raw fish, turtles and bird blood.
Alvarenga has said his fishing companion died about a month after they went off course when he couldn't eat the raw fish and turtles. Cordoba Cruz said Alvarenga told him he threw his son's body overboard after he died.
Cordoba Rios and his three brothers lived with their father in Juarez until early 2012, when they moved back to their native seaside village in the Mexican state of Chiapas.
"They were fed up with being bothered and mugged by gang members" Lucia Cordoba Cruz, Cordoba Rios' aunt, told the newspaper.
Five days after Cordoba Rios failed to return from his shark-fishing trip with Alvarenga, the family in Chiapas reported him missing and began searching for him, his aunt said.
"Our family looked for him in the sea, in other villages, always hoping to find him," she said, adding that their search ended about three weeks later in December 2012.
But his father, who had been sick and had several surgeries, was not told about his son's disappearance for several more months.
"I thought the boat had sunk in the open sea," he said.
Now, though, after speaking with Alvarenga, he has questions about the story. While Cordoba Cruz said he believes Alvarenga, he needs to talk to him in person to be certain.
"He asked me for forgiveness because he could not do anything for Ezequiel," he said, while relaying details of the Feb. 7 phone conversation.
"Maybe authorities think that it is enough to have an explanation of what happened over the phone," he added. "But that doesn't hurt as much as the pain I feel of knowing I will not see my son again."
The El Paso Times reports that the family spells its name Cordova. The Associated Press has reported the name Cordoba. The AP was unable to immediately confirm the spelling Saturday.
Follow us on twitter.com/foxnewslatino
Like us at facebook.com/foxnewslatino