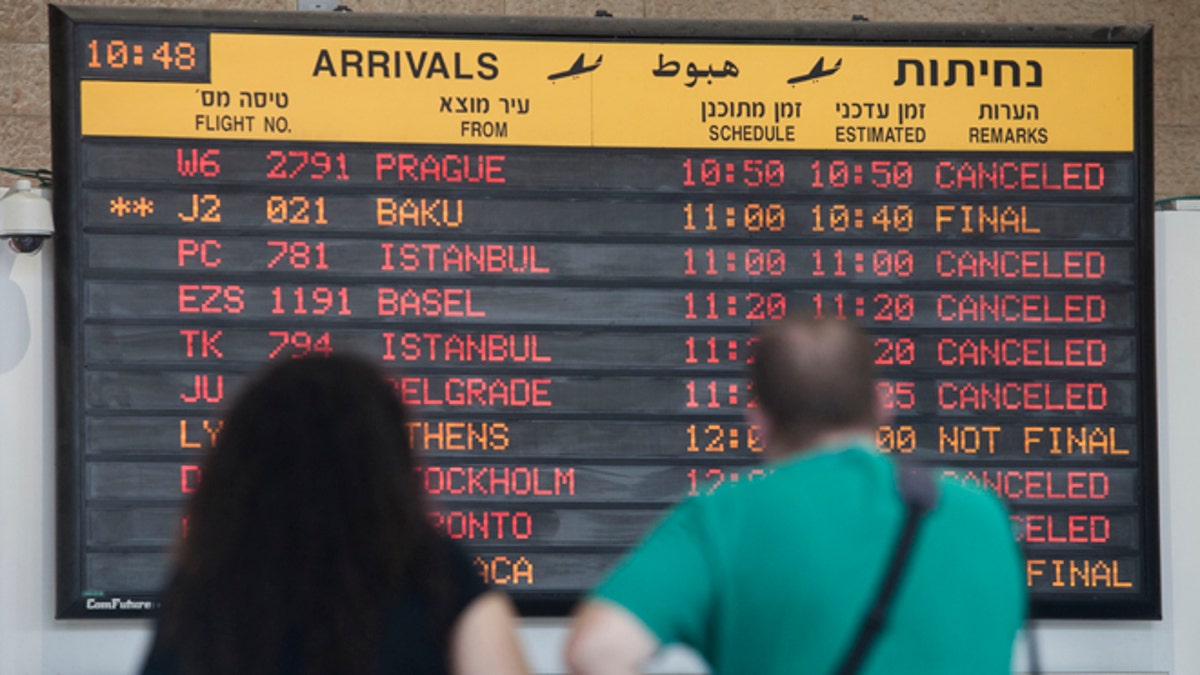 The Federal Aviation Administration extended its flight ban to Israel's Tel Aviv airport for an additional 24 hours Wednesday as European airlines canceled their flights amid fighting in the region.
The FAA says it will continue to monitor and evaluate the situation at Israel's Ben Gurion International Airport, where a Hamas rocket exploded nearby on Tuesday.
Germany's Lufthansa and Air Berlin extended their Tel Aviv flight cancelations through Thursday and Air France said it was suspending its flights "until further notice."
Poland's state airline, LOT, also said it suspended all its flights to Israel from Warsaw until Monday, the airline's spokeswoman told Reuters.
"The connection will be re-established as soon as possible and when we are sure that our operations are hundred percent safe," LOT said in a statement.
Lufthansa said Wednesday that the decision to cancel its flights applies also to its subsidiaries Germanwings, Austrian Airlines, Swiss and Brussels Airlines. In all, 20 flights from Frankfurt, Berlin, Munich, Zurich, Vienna and Brussels are being cancelled.
The airline on Tuesday suspended flights for 36 hours through the end of Wednesday. It said it extended the cancelations into Thursday because "at the current time there is no sufficiently reliable new information that would justify a resumption of air operations."
Among other European airlines, KLM, Alitalia and Scandinavian Airlines also canceled flights Tuesday and Wednesday, but did not immediately announce their plans for Thursday flights.
British Airways, however, said Wednesday it has not canceled any of its Tel Aviv flights and had no immediate plans to do so. The airline would not answer questions about how it had made its decision to keep flying while others were canceling, citing security reasons.
The Associated Press contributed to this report.