Exit polls suggest Greece pro-bailout parties could form government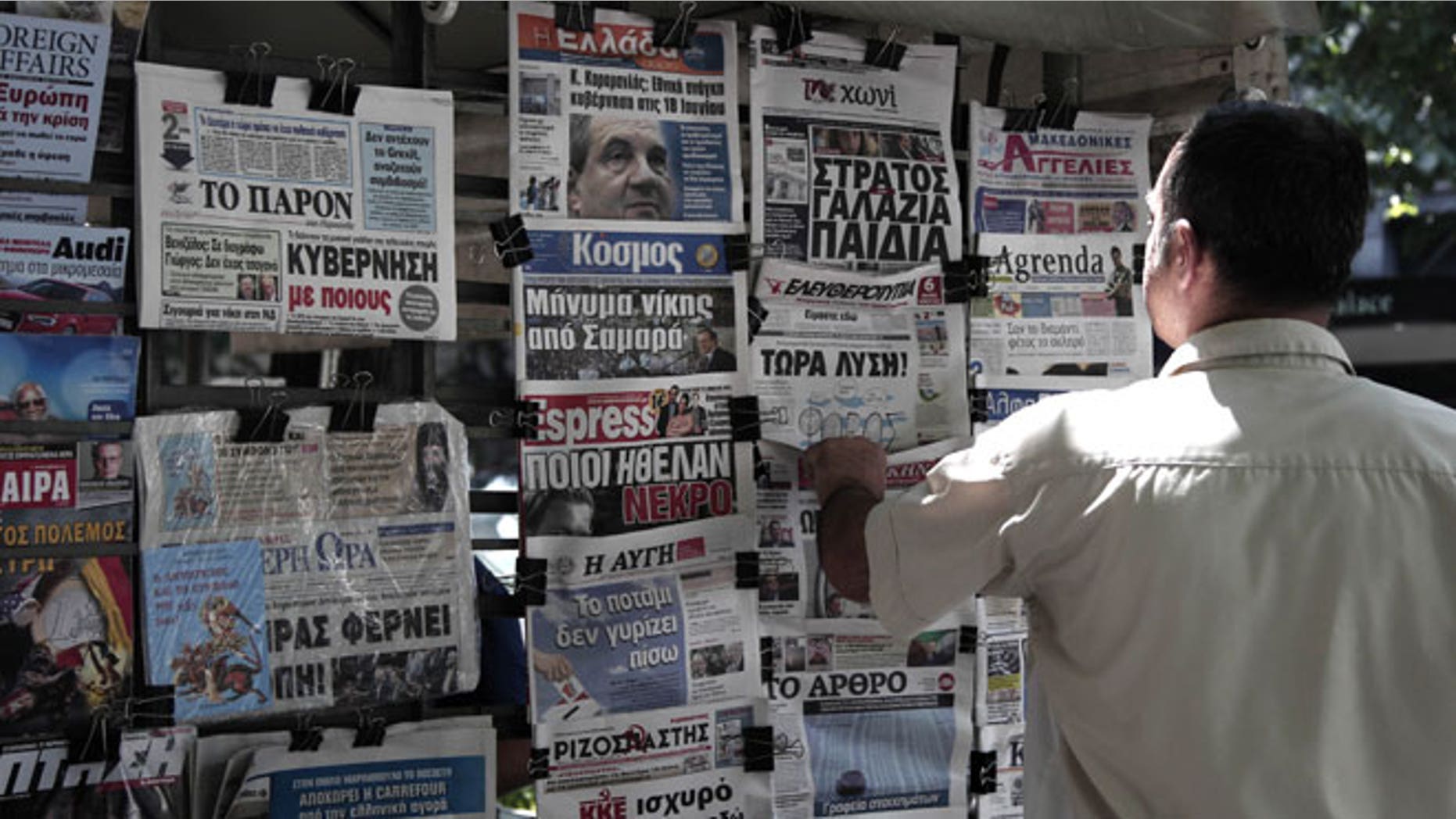 ATHENS, Greece – Updated exit polls predict that Greece's New Democracy party will come in first and could gather enough support to form a pro-bailout coalition to keep Greece in the eurozone.
Sunday's vote is seen as crucial for Europe and the world. Although no party appears to have won enough seats to form a new Greek government on its own, the polls indicate the country's two traditional parties -- New Democracy and PASOK -- will have enough seats to form a coalition together.
They have both expressed a willingness to work with other European nations to stay in the 17-nation eurozone.
The exit poll projected New Democracy as winning between 28.6 and 30 percent of the vote, giving it 127 seats in the 300-seat Parliament. That's ahead of the radical left Syriza party, which is projected to get 72 seats.
The outcome of Sunday's vote could determine whether Greece remains in the euro or is forced to leave the joint currency, a move which could drag down other European countries and have unforeseen consequences for the global economy. Whichever party comes first in Sunday's vote gets a bonus of 50 seats in the 300-member Parliament.
Syriza head Alexis Tsipras has vowed to cancel the terms of Greece's international bailout deal and repeal its austerity measures -- a move many think will force Greece to leave the eurozone. New Democracy leader Antonis Samaras says his top priority is to stay in the euro but renegotiate some terms of the bailout.
Greeks voted Sunday for the second time in six weeks in what was arguably their country's most critical election in 40 years.
Inconclusive elections on May 6 resulted in no party winning enough votes to form a government, and coalition talks collapsed after 10 days. The vote, which also sent the formerly governing socialist PASOK party plunging to historic lows, sent a very clear message that Greeks have lost patience with the deep austerity imposed in return for the country receiving billions of euros (dollars) in rescue loans from other eurozone countries and the International Monetary Fund.
"I'd like to see something change for the country in general, including regarding the bailout," said Vassilis Stergiou, an early-morning voter at an Athens polling station. "But at least for us to get organized and at the very least do something."
Tsipras, a 37-year-old former student activist, has vowed to rip up Greece's bailout agreements and repeal the austerity measures, which have included deep spending cuts on everything from health care to education and infrastructure, as well as tax hikes and reductions of salaries and pensions.
But his pledges, which include canceling planned privatizations, nationalizing banks and rolling back cuts to minimum wages and pensions, have horrified European leaders, as well as many Greeks. Tsipras' opponents argue that the inexperienced young politician is out of touch with reality, and that his policies will force the country out of the euro and lead to poverty for years to come.
Virtually unknown outside of Greece four months ago, Tsipras' pledges and his party's strong showing in the May 6 elections, where he came a surprise second place and quadrupled his support since the 2009 election, has put him in the international spotlight.
Scores of journalists and television news crews from across the world jostled for space to cover Tsipras casting his ballot in an Athens polling center.
"We have beaten fear. Today we open a road to hope," he said after voting, adding that he was confident of victory.
"Today we open a road to a better tomorrow, with our people united, dignified and proud. In a Greece of social justice and prosperity, an equal member of a Europe that is changing. A Europe of the peoples and of solidarity."
The young left-wing leader has accused his rivals of attempting to terrorize the population by casting him as the man who will ruin the country, and insists he will keep Greece within the euro - something that repeated opinion polls have shown about 80 percent of Greeks want.
Greece has been dependent on the rescue loans since May 2010, after sky-high borrowing rates left it locked out of the international markets following years of profligate spending and falsifying financial data.
The spending cuts made in return have left the country mired in a fifth year of recession, with unemployment spiraling to above 22 percent and tens of thousands of businesses shutting down.
For his part, Samaras has cast Sunday's choice as one between the euro and returning to the country's old currency, the drachma. Although he voted against Greece's first bailout in 2010, when his party was in opposition, he backed the second bailout agreed on late last year. He has vowed to renegotiate some of the terms of the accompanying austerity, but insists the top priority is for the country to remain in Europe's joint currency.
"The main thing we will decide on is the dilemma, euro or drachma," he said during his final pre-election rally in central Athens on Friday.
European leaders have cautioned that Greece could be left outside the 17-nation eurozone if it pulls out of its bailout commitments.
Newly elected French President Francois Hollande warned in a Greek television interview earlier this week that "if the impression is given that the Greeks want to move away from the commitments that were taken and abandon all prospects of revival, then there will be countries in the Eurozone that will want to end the presence of Greece in the eurozone."
Nearly 10 million people are eligible to vote in the country of about 11 million people. Polls close at 7pm (1600 GMT), with official results expected a few hours later.
"Today the Greek people speak. Tomorrow a new era for Greece begins," Samaras said after casting his ballot in a small town in southern Greece, the first of the main politicians to do so.
As Greeks went to the polls, more than 250 firefighters and soldiers battled a fire raging south of the Greek capital since Saturday afternoon. Local authorities said several houses were burned. Gale-force winds were hampering the efforts to extinguish the blaze, and Greece asked for help in water-dropping planes from Italy, France and Croatia.
Three firefighters suffered burns on Saturday, while four people were arrested for allegedly starting the fire by accident during welding work at a construction site.