EXCLUSIVE: Shadowy Iranian general visits Moscow, violating sanctions
A shadowy Iranian general responsible for the deaths of nearly 500 Americans traveled to Moscow Wednesday to meet with high-ranking Russian officials -- a trip that violated multiple United Nations resolutions forbidding him from leaving his country, multiple western intelligence officials with direct knowledge of the visit told Fox News.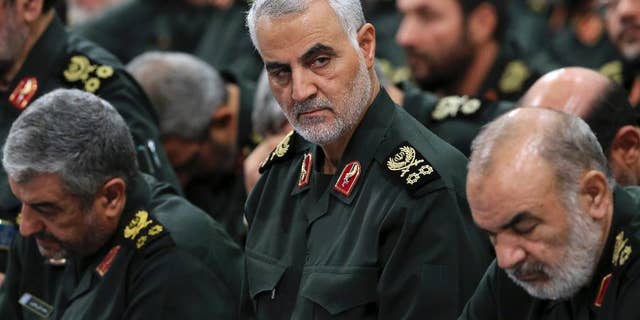 SLIDESHOW: RUSSIA'S MILITARY POWER IN PHOTOS
Iranian Quds Force commander Qassem Soleimani arrived in Terminal A of Vnukovo airport outside Moscow on Feb. 14 on Mahan Air WD084 at 12:13 p.m. local time and was scheduled to remain in Russia for a few days for meetings, officials said.
Soleimani is visiting Moscow to express his displeasure with the Russian government over their relationship with Saudi Arabia and other Arab states, mainly regarding weapons deals and strengthening economic ties, sources told Fox News.
RUSSIAN SPY SHIP SPOTTED CLOSER TO USA, NEAR NAVY SUBMARINE BASE
"These are two countries that want to cause trouble for the United States, and they're talking together which means even more trouble for the United States," House Armed Services Committee Chairman Mac Thornberry, R-Texas, told Fox News' "Happening Now."
He added, "If there are no consequences to violating sanctions, then they'll just do more of it."
The CIA would not immediately answer a request for comment. A State Department spokesman said he was unaware of the visit.
This is Soleimani's third trip to Moscow following visits in April and July 2015. Soleimani is thought to be the mastermind behind Iran's proxy war in Syria in order to prop up the Assad regime. Soleimani met with Russian President Vladimir Putin and Russian Defense Minister Sergei Shoigu days after the Iranian nuclear deal was agreed to in Vienna. Iran has been a key ally along with Russia in Syria, working together to shore up support for Syrian President Bashar al-Assad against opposition fighters, some of whom are backed by the United States.
The Quds Force, which Soleimani heads, is the special operations wing of the Iranian Revolutionary Guard, responsible for supporting terrorist proxy forces across the Middle East. Soleimani reports directly to Iranian Supreme Leader Ayatollah Ali Khamenei.
Soleimani was first designated a terrorist and sanctioned by the U.S. in 2005 for his role as a supporter of terrorism. In October 2011, the U.S. Treasury Department tied Soleimani to the failed Iranian plot to assassinate the Saudi ambassador to the United States at a popular restaurant in Washington, D.C.
Testifying before Congress last year, former Secretary of State John Kerry said Soleimani and the Quds Force would continue to face sanctions even after some UN sanctions were lifted on Iran following the landmark nuclear agreement between Iran and six world powers, including the United States.
UN Resolution 1747 prohibits Soleimani to travel, and any country that lets him transit or travel is also defying sanctions. Russia is a permanent member of the UN Security Council and would be a aware of the restrictions against meeting him.
During his confirmation hearing before Congress in 2015, Chairman of the Joint Chiefs of Staff, Marine Gen. Joseph Dunford said many Americans were killed by Iranian-backed forces under the command of Soleimani.
"The number has been recently quoted as about 500. We weren't always able to attribute the casualties we had to Iranian activity, although many times we suspected it was Iranian activity even though we didn't necessarily have the forensics to support that," Dunford told lawmakers.
Former Secretary of State John Kerry said five days after Soleimani's Moscow visit that he would never receive sanctions relief.
"Under the United States's initiative, Qassem Soleimani will never be relieved of any sanctions," Kerry said.
Fox News' Jenna Lee contributed to this report.