Ex-Israeli Spy Chief Takes Swipe at Netanyahu's Approach to Iran, Palestinians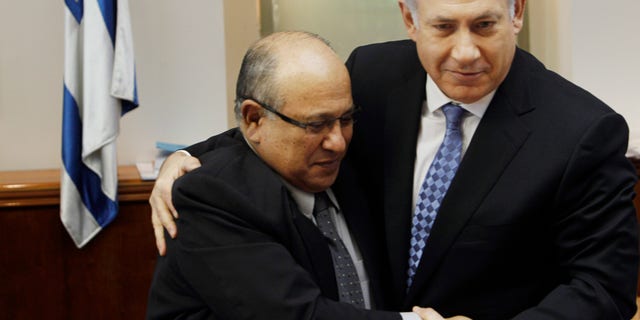 JERUSALEM – The newly retired head of Israel's fabled Mossad spy agency has turned his sights toward Prime Minister Benjamin Netanyahu, repeatedly criticizing the Israeli leader's approach to Iran and the Palestinians.
After earning a reputation as a fearless operator against Israel's enemies, now Meir Dagan is showing public concern over how Israel's government deals with them.
Dagan's statements, rare for a man known for discretion and secrecy during a three-decade career in the intelligence service, have startled many Israelis.
In a speech at Tel Aviv University on Wednesday, Dagan issued a stern warning against attacking Iran, saying a strike would risk unleashing a region-wide war and only encourage Tehran to push forward with a nuclear program that is widely believed to be aimed at developing weapons. Iran denies that.
"The war won't be against Iran, but will be a regional war," he said, according to a transcript obtained by The Associated Press. "I recommend that the prime minister not decide to attack."
Dagan also lamented the dire state of peace efforts with the Palestinians, which have been frozen for months.
"There needs to be an Israeli peace initiative," he said. "If we don't offer things and don't take the initiative, we might be put in a corner. Given the choice between put in a corner or taking the initiative, initiative is better."
He suggested that Israel accept a nine-year-old peace initiative proposed by Saudi Arabia, offering peace with the Arab world in return for a full withdrawal from all territories captured by Israel in the 1967 war.
With the comments, Dagan took a swipe at two cornerstones of Netanyahu's foreign policy.
Israel considers Iran its most dangerous threat, citing Tehran's nuclear program, its ballistic missile development, repeated references by the Iranian leader to Israel's destruction and Iran's support for the militant groups Hamas and Hezbollah.
Netanyahu has said that international sanctions should be the preferred way to halt the Iranian nuclear program, but he has repeatedly said that the military option should not be ruled out.
"The more Iran believes that all options are on the table, the less the chance of confrontation," Netanyahu said in a high-profile address to the U.S. Congress last week.
In the same address, Netanyahu laid out his vision for peace with the Palestinians. He presented no new ideas for breaking the deadlock and instead repeated a series of red lines on borders and security demands he has set for any future deal. Netanyahu rejects a withdrawal to Israel's 1967 lines.
Dagan's criticism has been noteworthy because he has a reputation as a hard-liner toward Israel's Arab and Muslim adversaries. Foreign press reports have attributed a number of bold operations to the Mossad during Dagan's eight-year term.
Among them were the assassination of a Hezbollah mastermind in Syria in 2008, the assassination of a senior Hamas operative in Dubai in 2010, a mysterious Israeli airstrike in Syria in 2007 that destroyed what was believed to be a nuclear reactor and the release of a computer worm that crippled Iranian nuclear facilities. Israel has never confirmed its involvement in any of these operations.
"He is one of the most right-wing militant people ever born here, somebody who ate Arabs for breakfast, lunch and dinner," wrote Ben Caspit, the chief columnist for the Maariv daily. "When this man says that the leadership has no vision and is irresponsible, we should stop sleeping soundly at night."
Caspit claimed two other recently retired security chiefs expressed similar reservations in private. He offered no proof.
Since leaving office early this year, Dagan has become increasingly outspoken in his criticism of the government, implying that leaders are pushing the country toward war.
Just days after his retirement, an Israeli newspaper quoted him as saying Israel "should not hurry" to attack Iran. Last month, he was quoted as saying a military strike on Iran would be "stupid."
In Wednesday's speech, Dagan said he knew it is inappropriate for public officials to express their opinions. He is currently head of Israel's Ports Authority.
"But I will express my opinion anyway," Dagan said in Wednesday's speech. "I am not prepared for it to be on my conscience that there will be a repeat of what happened in 1973."
He did not elaborate, but Israel suffered heavy losses in the 1973 Mideast war after leaders ignored warnings from intelligence chiefs and were caught off guard by invading Syrian and Egyptian armies.
Netanyahu's office refused to comment.
The speech dominated Israeli newspapers, radio broadcasts and newscasts on Thursday. While some commentators said Dagan was delivering an important wake-up call to the establishment, many officials said he had crossed a line.
"It damages state security. There is no need to give the other side directions of thought, activity or readiness," said Cabinet minister Yossi Peled, a former general who once commanded Israel's northern front. "I am sure he is very worried and is acting out of good intentions, but I still think there are things that shouldn't be declared in public."