Ex-Guantanamo detainee is unhappy living in Uruguay, plans hunger strike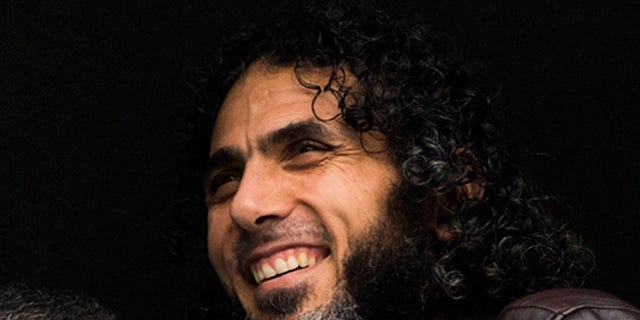 NEWYou can now listen to Fox News articles!
MONTEVIDEO, Uruguay (AP) – A resettled former Guantanamo detainee who alarmed some officials when he recently went missing for several weeks is planning a hunger strike to demand he be allowed to leave Uruguay, his liaison with the government said Thursday.
Syrian native Abu Wa'el Dhiab has repeatedly said he is unhappy living in the South American country. Liaison Christian Mirza said Dhiab told him he has planned the strike in hopes of going elsewhere.
Dhiab went missing from Uruguay for weeks earlier this year, alarming officials here and in neighboring countries and triggering recriminations from U.S. lawmakers before he resurfaced in Venezuela.
The Uruguayan Foreign Ministry said that while he was in Caracas, Dhiab tried to get help to reunite with his family in Turkey or another country before he was deported back to Uruguay earlier this week.
Mirza has acted as the Uruguayan government's liaison with Dhiab and five other former Guantanamo detainees who were resettled here and said Dhiab told him of his plans to launch a hunger strike.
Former President Jose Mujica invited Dhiab and the other former detainees — three others from Syria, a Tunisian and a Palestinian — to resettle in Uruguay in 2014. They had been detained in 2002 for suspected ties to al-Qaida and held without charge like hundreds of others at Guantanamo before the U.S. government cleared them for release.
The Uruguayan government has provided social services and financial support. But the men have struggled to adjust, and complained about not getting enough help from Uruguayan officials.
Dhiab, who suffers health problems related to his hunger strikes and forced feedings while in captivity, has been the most vocal about his unhappiness. Shortly after arriving in Uruguay, he called a press conference to complain that the government needed a better resettlement plan. Last year, he visited neighboring Argentina where he told news media that he planned to seek asylum for himself and the other detainees still held at the U.S. naval base in eastern Cuba.
"He's a human being who was locked up in the most horrible prison for 12 years and now wants to be with his family," said Former Deputy Foreign Minister Belela Herrera, who befriended Dhiab. "It's not that he's not grateful to our country, because he is grateful, but he realizes that our country cannot welcome his family."
Like us on Facebook
Follow us on Twitter & Instagram