Ex-British PM calls for 'new deal' for kids in conflict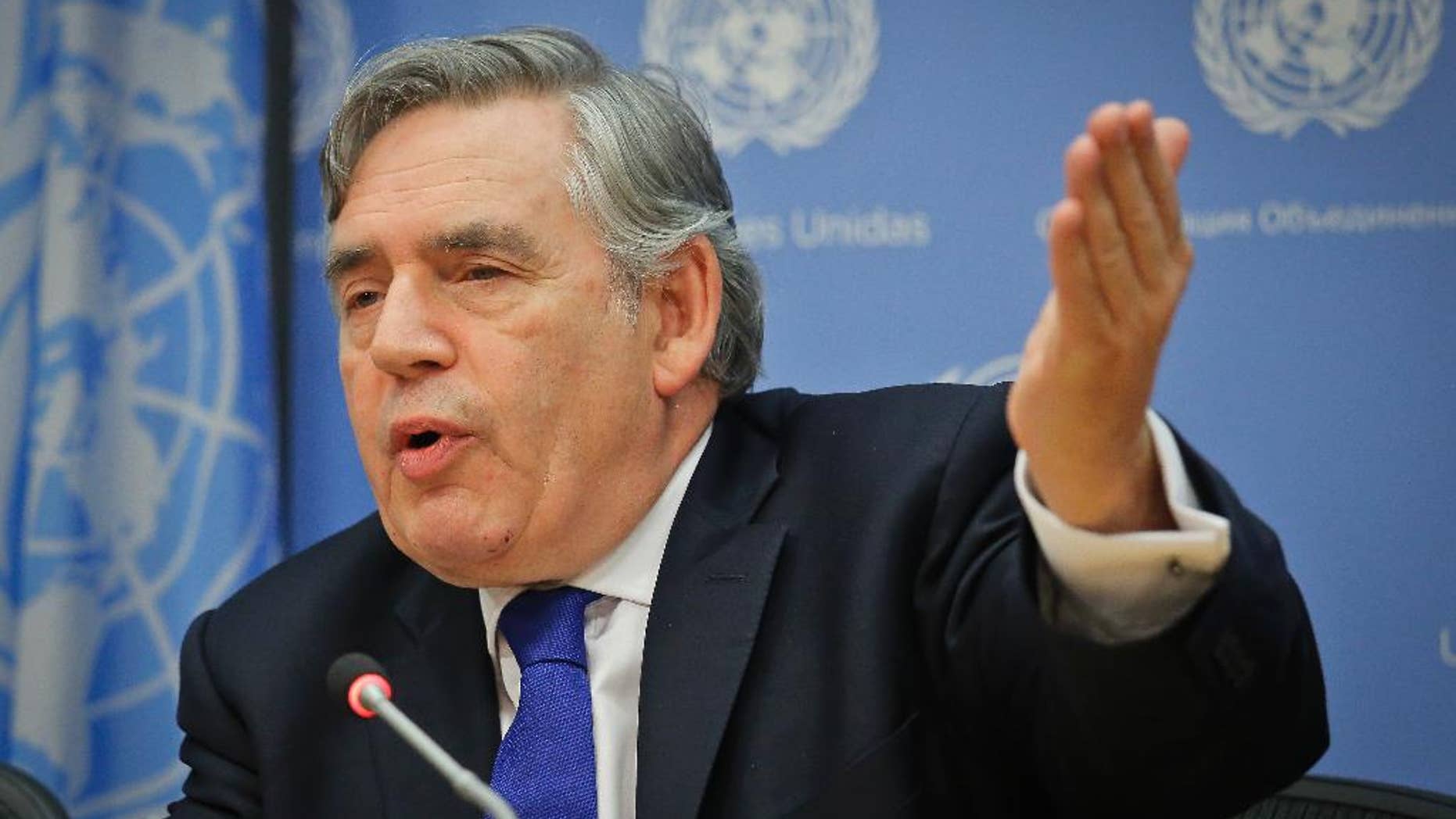 UNITED NATIONS – Former British Prime Minister Gordon Brown on Thursday called for a "new deal" for children in conflict zones around the globe, saying not since the end of World War II have so many children's human rights been violated.
Brown announced at United Nations headquarters he will submit a plan to the U.N.'s secretary-general to raise funds to guarantee safe schools for such kids in 2017-18. He has also called for creation of a new international criminal court specifically to prosecute atrocities against children.
"From Mosul to Aleppo, it is often more dangerous to be a child on the streets than a soldier on the front line," Brown said.
Brown, the U.N.'s special envoy for global education under outgoing Secretary-General Ban Ki-moon, told reporters he also wants the European Court of Human Rights to prosecute the perpetrators of school bombings.
Brown said the first case the ECHR should examine is the deadly school attack in Syria's Idlib province that left dozens dead in October. The U.N.'s children's agency called it one of the deadliest attacks of its kind in the country's nearly six-year war.
The U.S. has said either Syria or Russia is responsible for the attack.
"We need not wait for the creation of an International Children's Court to seek justice for the victims of the Idlib bombing," he said in a prepared statement prior to speaking with reporters. "The airstrikes likely constitute a violation of international humanitarian law and a war crime — and a case should be brought before an international tribunal without delay."
Brown said he would press the Group of 20 during its meeting in Hamburg next summer for a funding plan for the education of the 25 million children in the Middle East and Africa who are unable to attend school because of various conflicts. The G-20 is an international forum for the governments and central bank governors of 20 major economies.
Brown said a legal panel should be set up to examine new laws, policies and mechanisms aimed at "ending the war on children," including an International Criminal Court for Children with a wider mandate than the ICC to investigate atrocities against children.
Brown served as UK's prime minister from 2007-2010.