Eurozone inflation rises to target as economy improves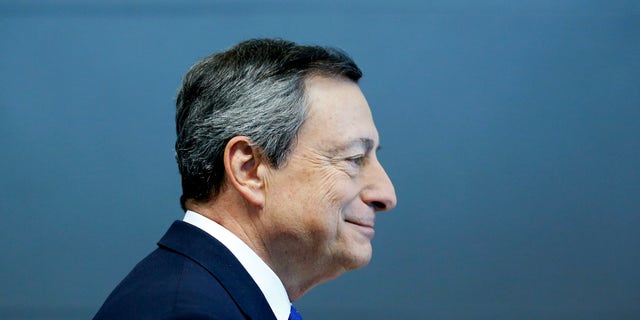 NEWYou can now listen to Fox News articles!
LONDON – Inflation in the 19-country eurozone is back up at the European Central Bank's targeted level as a strengthening economy helps drive up prices, stoking speculation that the bank could start winding down its stimulus measures sooner than thought.
Statistics agency Eurostat said Friday that its headline rate rose to 1.9 percent over the year to April from 1.5 percent the previous month. The increase was a tad more than expected in financial markets and means that inflation is back at the ECB's target of just below 2 percent.
In 2017, eurozone inflation has picked up markedly, mainly thanks to oil prices. The trend continued in April's figures — energy prices were 7.5 percent higher from a year ago, when they were down an annual 8.7 percent.
The key development in Friday's release, however, was a rise in the core inflation rate, which strips out the volatile items of food, energy, alcohol and tobacco, to 1.2 percent from 0 .7 percent.
Analysts cautioned that the April figures could have been distorted by the timing of Catholic Easter, which can push up prices, especially for food and holidays. Last year, Easter fell in March, this time in April.
Still, most analysts were surprised by the scale of the increase in the core inflation rate, which is an important gauge for policymakers at the ECB.
If the rise in April was more than just Easter-related, it would be indicative of inflation pressures building through such things as higher wages as the eurozone economy gains momentum and unemployment falls.
A raft of economic data recently has shown the eurozone getting stronger despite concerns associated with France's presidential election and the start of Britain's two-year exit from the European Union.
Despite that rosier backdrop, ECB President Mario Draghi cautioned investors on Thursday not to anticipate any tapering off of the stimulus program yet. Among other things, he is not confident that inflation could stay at the ECB's target.
"Today's rise in core inflation makes that narrative slightly more difficult to maintain," said Cathal Kennedy, European economist at RBC Capital Markets.
The reaction in markets suggests investors believe that the April inflation figures may have an impact on the thinking at the ECB. The euro was up 0.6 percent at $1.0935.
Overall, analysts think the ECB will want to see more evidence that the eurozone economy is strong and inflation is consistently higher before committing to a plan to taper the stimulus. The ECB's next policy meeting is on June 8, days after the May inflation figures are published.
"Today's release will, however, increase the focus on the June meeting and we can expect those voices calling for changes to the ECB's forward guidance language to grow louder in coming weeks," Kennedy said.
On Thursday, Draghi walked a tightrope — while acknowledging the recent improvement in economic data, he discouraged investors, through his comments on inflation, from speculating about the end of the stimulus, which might prematurely drive up market interest rates, blunting its intended benefits.
The ECB has slashed interest rates, including its main one to zero, and embarked on a big bond-buying stimulus program to keep a lid on market interest rates. Its hope is to get inflation back toward its target and then to start easing off the bond-buying program.