EU Expresses Concern over Ivory Coast Vote Count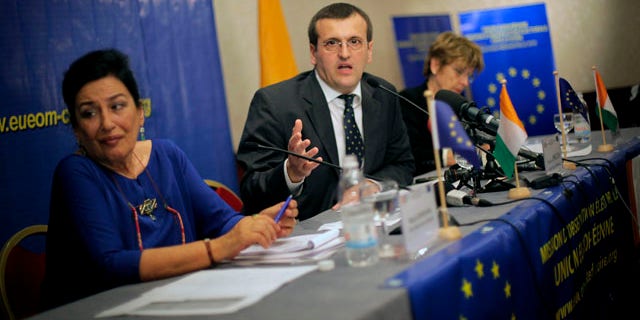 ABIDJAN, Ivory Coast -- European Union observers raised concern Tuesday about ballot counting in Ivory Coast's first election since civil war erupted eight years ago, criticizing authorities for delaying the release of results and barring monitors from some centers where votes are being tabulated.
The head of the European Union's 120-strong observer mission, Cristian Preda, said the failure to release any significant tally so far was fueling tension among a nervous electorate. However, Preda said the EU had detected "no indications of fraud" in Sunday's poll and praised it for having been carried out peacefully.
Yves Tadet, an electoral commission official, said he was unaware of any observers being denied access to counting centers, but said they could have been turned away for failing to have proper paperwork. The commission has blamed logistic problems and heavy rains for delaying results for two days. A final tally is expected Wednesday as scheduled, Tadet said.
The vote is seen as a critical turning point in Ivory Coast's history. Many hope it will restore stability and reunify the country, but some worry it could spark violence if political rivals fail to accept the outcome.
Deepening fears over possible unrest prompted some businesses to close temporarily Tuesday or send workers home early, and highways in skyscraper-lined Abidjan were void of usual traffic jams. The head of the armed forces, Gen. Phillipe Mangou, went on state television to urge residents to resume normal life and stay calm.
The ballot pits 65-year-old President Laurent Gbagbo against 13 challengers, including 68-year-old opposition leader Alassane Ouattara, who is wildly popular in the pro-rebel north, and 76-year-old ex-president Henri Konan Bedie, who was toppled in 1999 in the nation's first coup.
If no candidate wins a simple majority, the top two finishers will face off in a second round Nov. 28.
Preda said EU monitors spread across the country had noted minor problems at polling stations during Sunday's poll. About 80 percent of stations opened hours late because materials were not ready; not all electoral members were present in some; and one-tenth of ballot boxes were not properly sealed.
But he said the EU was generally satisfied with the vote itself, and preoccupied now with the critical phase of monitoring the vote count.
The electoral commission, though, had refused to give 14 observers access to centers where ballots were being collated in several parts of the country, he said. Those include, crucially, the electoral commission's headquarters in the main city, Abidjan, where national results will be released.
EU observers at the electoral headquarters confirmed separately that since counting began Sunday night, they had been unable to enter the room where national results are being tabulated.
"It's an act that we deplore, and there is no rational explanation for it," Preda said. "Everything must be transparent."
Preda said that in some counting centers Tuesday morning, his observers were still being refused entry because authorities had told them "there is nothing to see."
The U.S.-based Carter Center also said one of its monitors had been told to leave a vote counting center in the capital, Yamoussoukro. But others had no problems and the mission generally praised the electoral process, as did the African Union. The Carter Center said voter turnout had been higher than expected, at about 74 percent.
The vote had been delayed for five years because of disputes over voter rolls. Gbagbo, whose five-year mandate officially expired in 2005, stayed in office claiming elections were impossible because of a 2002-2003 war that left rebels in control of the north.
Ivory Coast has been struggling to hold the vote since a 2007 peace deal broke years of political stalemate, leading to the dismantlement of a U.N.-patrolled buffer zone that had marked the divide between the rebel-held north and the loyalist south.