Ethiopia's longtime ruler Prime Minister Meles Zenawi dead at 57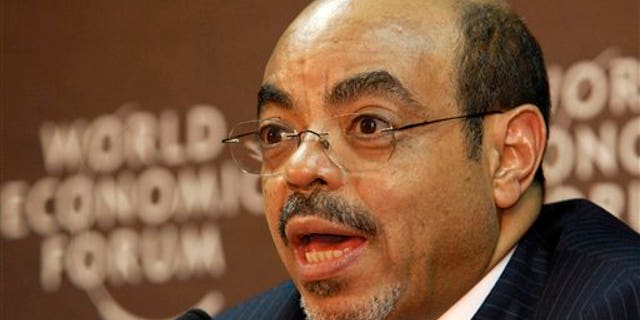 ADDIS ABABA, Ethiopia – Meles Zenawi, Ethiopia's long-time ruler who held tight control over this East African country but was a major U.S. counter-terrorism ally, died of an undisclosed illness after not being seen in public for weeks, Ethiopian state television said Tuesday. He was 57.
Meles died Monday just before midnight after contracting an infection, state TV announced Tuesday. Hailemariam Desalegn, who was appointed deputy prime minister and minister of foreign affairs in 2010, is now in charge of the Cabinet, state TV said.
Meles hadn't been seen in public for about two months. In mid-July, after Meles did not attend a meeting of heads of state of the African Union in Addis Ababa, Ethiopia's capital, speculation increased that his health problems were serious.
Ethiopian officials gave no details and said the prime minister was in "very good" health and would return to office soon, but international officials said quietly it was unlikely he would recover.
State TV on Tuesday showed pictures of Meles as classical music played in the background.
Born on May 8, 1955, Meles became president in 1991 and prime minister in 1995, a position that is both the head of the federal government and armed forces.
The U.S. has long viewed Meles as a strong security partner and has given hundreds of millions of dollars in aid over the years. U.S. military drones that patrol East Africa -- especially over Somalia -- are stationed in Ethiopia.
Though a U.S. ally, Ethiopia has long been criticized by human rights groups for the government's strict control. Dissent is met with a strict government response.
During Meles' election win in 2005, when it appeared the opposition was likely to make gains, Meles tightened security across the country, and on the night of the election he declared a state of emergency, outlawing any public gathering as his ruling party claimed a majority win. Opposition members accused Meles of rigging the election, and demonstrations broke out. Security forces moved in, killing hundreds of people and jailing thousands.
In 2010 Meles won another five years in office while receiving a reported 99 percent of the vote. Meles is the longtime chairman of the Tigray People's Liberation Front and has always identified strongly with his party.
"I cannot separate my achievements from what can be considered as the achievements of the ruling party. Whatever achievement there might have been, it does not exist independent of that party," Meles once said when asked what he thought would be his legacy.
Meles grew up in the northern town of Adwa, where his father had 13 siblings from multiple women. He moved to the capital, Addis Ababa, on a scholarship after completing an eight-year elementary education in just five.
State TV said funeral arrangements would be announced soon.