Ethiopian opposition to hold rare protests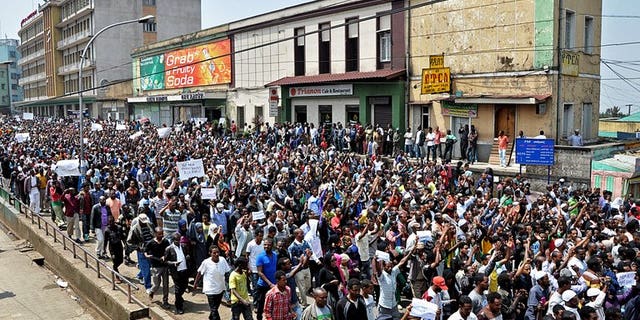 ADDIS ABABA (AFP) – Ethiopian opposition activists said Saturday they will hold rare demonstrations in two northern towns calling for government reform in the tightly controlled country.
The planned demonstrations, due to be held Sunday in the towns of Gondar and Dessie, follow protests last month in the capital Addis Ababa when several thousand activists called for the release of political prisoners.
Those protests were the largest in the country since post-election violence in 2005, in which 200 people were killed and hundreds more arrested.
The opposition will demand that the government "revoke the anti-terror legislation as it is being used to commit widespread human rights abuses," said Negasso Gidada, protest organiser and chairman of the Unity for Democracy and Justice party (UDJ).
"We are asking the government to stop arresting and accusing journalists and political opponents as though they were terrorists."
However, government spokesman Shemeles Kemal said that while Ethiopia's constitution includes the right to protest, permission was needed to hold a demonstration.
"There has been no permit given to the demonstrators....therefore they will be acting unlawfully," Kemal said.
Journalists, opposition members and religious leaders have been jailed under Ethiopia's 2009 anti-terrorism legislation, which rights groups say is used by the government to stifle peaceful dissent.
Ethiopian journalist Eskinder Nega and UDJ Vice-Chairman Andualem Arage were both jailed last year under the anti-terror legislation. They were accused of conspiring to commit acts of terror.
The government says the law protects citizens.
"There should be no concern over this law as it is heavily drawn from best international practises," Shemeles added.
Opposition politics remain limited in Ethiopia.
Only one chair of Ethiopia's 547-seat parliament is occupied by an opposition member, while the ruling Ethiopian People's Revolution Democratic Front party holds all other seats.