Estonia mourns victims of orphanage fire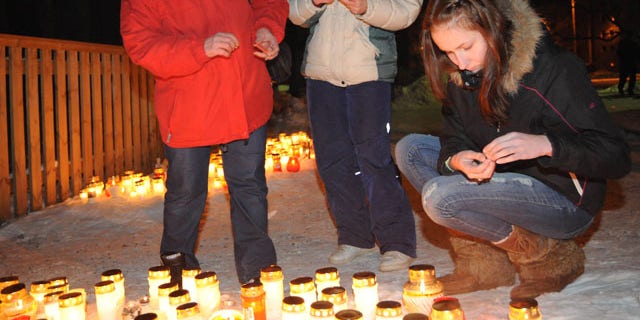 HAAPSALU, Estonia – Estonia observed a day of mourning Monday for eight disabled children and two adults who were killed when a fire destroyed an orphanage.
Churches in Haapsalu joined in ringing bells at precisely 2.30 p.m., the time of the first alert Sunday, while President Toomas Hendrik Ilves solemnly inspected the charred ruins, laying a candle among others brought by Estonians paying homage.
"This catastrophe, which is the most tragic fire accident of the past decades (in Estonia), should not have happened," Ilves said in statement.
Interior Minister Marko Pomerants said that investigators hoped to determine "in the nearest future" what caused the blaze at the orphanage for disabled children in Haapsalu, located some 100 kilometers (60 miles) southwest of Tallinn.
Authorities initially said all 10 victims of Sunday's fire were children. But on Monday they said eight of those killed were children aged 7 to 16, and two were adults, aged 20 and 21. Media reports said the adults were also residents of the home.
Most of the children were wheelchair-bound and unable to escape the flames that spread rapidly through the wooden building.
The fire brought back memories of a similar blaze in neighboring Latvia four years ago when a fire swept through a provincial home for the elderly and disabled, killing 26.
Latvian investigators determined that the fire had been triggered by an electrical malfunction after numerous space heaters were plugged in to keep residents warm during severely cold weather.
Estonia is currently experiencing a cold snap, with Sunday's temperature at 10 degrees Fahrenheit (minus 12 Celsius)
According to World Health Organization data cited by the Geneva-based World Fire Statistics Centre, from 1997-2005 Estonia had the highest number of fire-related deaths per 100,000 residents in Europe.
The Baltic country's government announced that it was prepared to financially help the relatives of the victims and to rebuild the orphanage, which was built in 1996 with help from Swedish and Finnish donations.