Erdogan urges Saudi Arabia to 'prove' missing journalist left consulate
Turkish President Recep Tayyip Erdogan on Monday urged Saudi Arabia to prove journalist Jamal Khashoggi left the Saudi Consulate in Istanbul.
Saudi officials have stuck by that story since his disappearance last week.
"Now when this person enters, whose duty is it to prove that he left or not? It is (the duty) of the consulate officials," the Turkish leader said during a visit to Hungary. "Don't you have cameras and other things? Why don't you prove it, you have to prove it."
His comments were a direct suggestion that Saudi Arabia was responsible for the journalist's disappearance. The Washington Post published on Tuesday a surveillance image on Tuesday showing Khashoggi walking into the consulate a week ago just before he vanished.
He reportedly went to the consulate in Istanbul for paperwork to marry his Turkish fiancée.
The Saudi ambassador was summoned by Turkey's Foreign Ministry to urge "full cooperation" in the probe of the journalist's disappearance, according to the Anadolu news agency on Monday.
It was the second time since the ambassador was summoned amid Khashoggi's disappearance after visiting the consulate on Oct. 2.
Some Turkish officials fear that Khashoggi, a 59-year-old staunch critic of Saudi Arabia and a contributor to the Post's Global Opinions section, was murdered by Saudi agents inside the consulates. Saudi officials denied the allegations, calling them "baseless" and saying the journalist left their premises.
President Trump weighed in on the issue. "I don't like hearing about it. Hopefully, that will sort itself out. Right now, nobody knows anything about it, but there's some pretty bad stories going around. I do not like it," Trump said on Monday.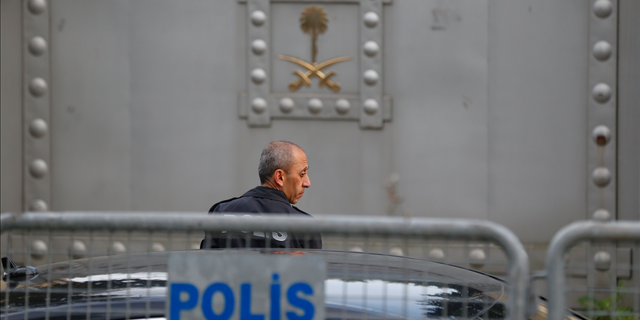 Secretary of State Mike Pompeo called upon the Saudi Arabian government "to support a thorough investigation of Mr. Khashoggi's disappearance and to be transparent about the results of that investigation."
Turkish authorities haven't yet released any evidence related to the Khashoggi's disappearance. A Turkish broadcaster NTV reported on Monday that authorities asked for access to the consulate. It remains unclear if the request was granted.
The daily newspaper Sabah reported that investigators believe the journalist was likely dismembered and his body removed in boxes and flown out of the country, according to the post.
The Associated Press contributed to this report.