Email from Assad's wife sparks outrage among activists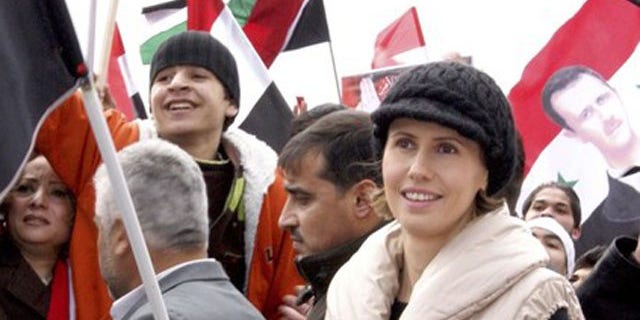 An email sent from the wife of Syria's president reportedly has sparked outrage from opposition activists and Syrian experts.
British-born Asma Assad, 36, appears to offer full support to her husband Bashar al-Assad, while also claiming to be encouraging dialogue and comforting the bereaved, in an email she wrote to The Times of London.
"The President is the President of Syria, not a faction of Syrians, and the First Lady supports him in that role," the email to the paper said.
"The First Lady's very busy agenda is still focused on supporting the various charities she has long been involved with and rural development as well as supporting the President as needed," the email continued. "These days she is equally involved in bridging gaps and encouraging dialogue. She listens to and comforts the families of the victims of violence."
Opposition activists decried her first message to international media in 11 months.
"Asma cannot continue her charitable work as before and all the evidence shows that she is not. ... It would be interesting to know if she has ever been able to comfort those who have lost love ones to her husband's security forces," Chris Doyle, the director of the Council for Arab-British Understanding told The Times.
"Can you picture her comforting a widow whose husband has been shot or beaten to death by Bashar's thugs?" he said.
The Times said the first lady sent the email after it had asked for her thoughts on the violence carried out by President Assad's security forces.
In an interview with Sky News three years ago, Asma spoke about her despair at seeing the violence in the Middle East. She then invited Obama to Damascus after he spoke of a "new beginning" in U.S. and Muslim world relationships.
This week, the U.S. closed its embassy in Damascus.
A group of Syria experts suspects Asma is privately appalled by the carnage but compelled to remain silent, The Times reports.
Click here to read more from Sky News.
Click here to read more from The Times of London.