El Salvador charges Spanish priest with smuggling contraband into prisons, helping gangs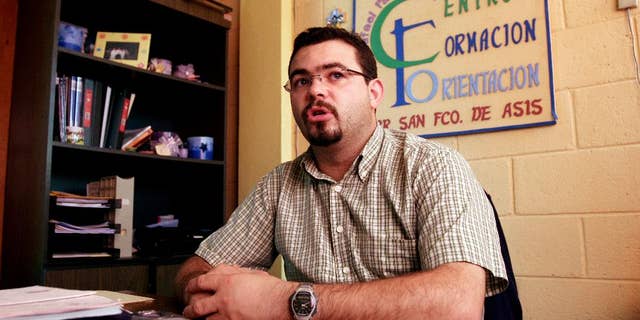 SAN SALVADOR, El Salvador – Police arrested a Spanish priest Wednesday on allegations he tried to get favorable treatment for Salvadoran gang members and smuggled contraband into prisons.
Roman Catholic priest Antonio Rodriguez Tercero was detained as part of a sweep that also arrested 12 police officers, three court employees and two prosecutor's office officials who allegedly collaborated with members of "Mara" street gangs. Some of them were accused of helping expedite or fix judicial rulings for gang members.
National Civil Police Director Mauricio Ramirez Landaverde offered no more details on the charges against Rodriguez Tercero, who is known as "Father Tony" in the low-income neighborhood where his parish is located.
The priest had been involved in programs aimed at rehabilitating gang members.
Priest Gerardo Mendez, who works in the same parish, said Rodriguez Tercero's arrest appeared to be a reprisal for his work with gang members.
"This is a kind of persecution for Father Tony's stance on the problem of violence," Mendez said.
The church has played a complex role in efforts to reign in gang violence in this Central American country.
Leaders of the Mara Salvatrucha and Mara 18 gangs have said clerics helped broker a 2012 truce between the two gangs that temporarily led to a drop in killings.
Officials have since said the truce hadn't worked.