'El Chapo' Guzman's hiding place in Mexico was not out of the ordinary and in plain sight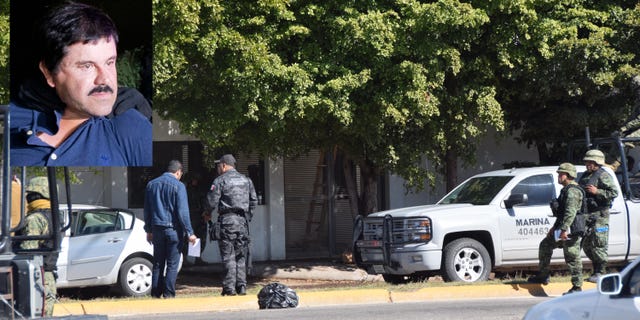 LOS MOCHIS, Mexico (AP) – The house where Mexican drug lord Joaquin "El Chapo" Guzman last sought refuge was not out of the way or out of the ordinary.
It occupies a corner lot on a busy four-lane boulevard in a neighborhood favored by local politicians. Guzman's house looks more like a doctor's office than a residence. The two-story building is set back from the street and completely obscured by the tops of thick trees. A Montessori school is around the corner.
The mother of Sinaloa Gov. Mario Lopez Valdez has a home two blocks away with a round-the-clock local police presence. Lopez said on Saturday that he was shocked by the fact Guzman was capture here in Los Mochis, a city of some 250,000 people near the shores of the Gulf of California.
"I've been here 50 years and in 50 years there was never a rumor, a hint, I never saw a story saying that this person (Guzman) could be found in Mochis or could be living in Mochis," Lopez said.
But Guzman's men appeared to have made preparations in case he ever needed the house.
More than a year ago, two brothers who had lived there while running a Baptist church in town either sold or rented the property, said a woman who has worked on the street for years, but declined to give her name for safety concerns. Until then it looked much like the other homes in the neighborhood, with an open carport protected by a metal gate.
But a month or two of intensive renovations transformed the house into an architecturally unremarkable but completely enclosed structure. Windows and glass doors with horizontal grating were installed and the new walls that advanced right to the sidewalk.
On Friday night, following a gun battle, the tiled foyer beyond that glass door was smeared with blood as white-suited forensic technicians worked inside.
The new owners also installed surveillance cameras. Still, for months after the renovations were completed the property appeared uninhabited. It was only after leaving work Thursday evening that the woman said she noticed a large black pickup parked in front of the home. She had never seen the truck before.
Around 4 a.m. on Friday, marines raided the house, which the government officials said had been under surveillance for weeks. Neighbors say an intense shootout ensued, lasting about two hours. They only ventured out later after hearing on the news what had happened. Five gunmen were killed and six arrested.
At least one of those killed fell in a house under construction on the other side of the block.
Heavily armed marines kept onlookers at a distance from the crime scene on Saturday while a contingent of reporters blocked one lane of the boulevard a few blocks away from the house. At an intersection, someone had lifted a manhole cover from a storm sewer and found an abandoned assault rifle. Eventually a team of marines arrived, pulled what reporters remained out of the sewer and secured the rifle.
Guzman had apparently fled from the home into the sewer and emerged blocks away, where he commandeered a vehicle and continued his escape until authorities eventually caught him.
The area's notoriety already has been growing. A family stopped and posed for photos outside the Hotel Doux on the outskirts of Los Mochis where marines took Guzman briefly after his capture.