Egypt holds final vote on divisive draft constitution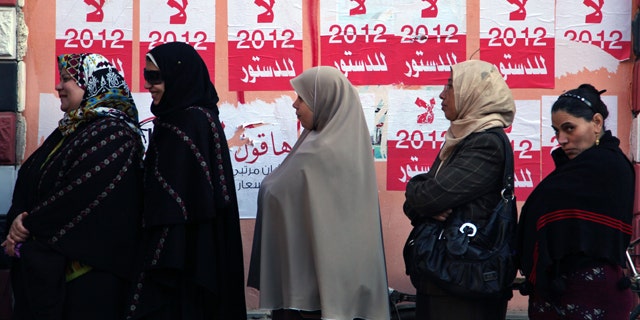 CAIRO – Egyptians began voting on Saturday in the second and final phase of a referendum on an Islamist-backed constitution, but there was little indication that the result of the vote will end the political crisis in which the country is mired.
The vote comes a day after clashes between supporters and opponents of Islamist President Mohammed Morsi in the Mediterranean port city of Alexandria. It was the latest outbreak of street violence in more than four weeks of turmoil, with the country divided first over the president's powers then over the draft constitution.
The clashes -- in which opponents of Islamists set fire to cars and dozens of people were hurt -- illustrated how the new constitution, regardless of whether it is adopted or not, is unlikely to ease the conflict over the country's future.
Saturday's vote is taking place in 17 of Egypt's 27 provinces with about 25 million eligible voters. The first phase on Dec. 15 produced a "yes" majority of about 56 percent with a turnout of some 32 percent, according to unofficial results.
"I came early to make sure my `no' is among the first of millions today," oil company manager Mahmoud Abdel-Aziz said as he waited in line outside a polling station in the Dokki district of Giza, Cairo's twin city on the west bank of the Nile. "I am here to say `no' to Morsi and his Muslim Brotherhood," he said.
Another Giza voter, accountant and mother of three Sahar Mohamed Zakaria, had a different take on Saturday's vote.
"I'm voting `yes' for stability," she announced.
Zakaria has an unlikely ally in Fayoum, an oasis province 60 miles (100 kilometers) southwest of Cairo where Islamist groups have traditionally had strong support.
Hanaa Zakim, one of the province's Christians, said she was also voting "yes" for stability and an end to the country's deepening economic problems. Most Christians are seen to oppose the draft.
Speaking as she waited in line along with bearded Muslim men and Muslim women wearing headscarves, Zaki said: "I have a son who didn't get paid for the past six months. We have been in this crisis for so long and we are fed up."
In part, Egypt's split has been over who will shape the country's path nearly two years after the ouster of Hosni Mubarak nearly two years ago.
An opposition made up of liberals, leftists, secular Egyptians and a swath of the public angered over Morsi's 5-month-old rule fear that Islamists are creating a new Mubarak-style autocracy. They accuse the Brotherhood of monopolizing the levers of power and point to the draft charter, which Islamists on the Constituent Assembly rammed through despite a boycott by liberal and secular members. They are calling on supporters to vote "no."
Morsi's allies say the opposition is trying to use the streets to overturn their victories at the ballot box over the past two years. They also accuse the opposition of carrying out a conspiracy by former members of Mubarak's regime to regain power.
If the constitution is adopted, Morsi will call for the election of parliament's law-making lower chamber to be held within two months while giving the mostly toothless upper chamber legislative powers until the lower house is seated.
The upper chamber, known as the Shura Council, was elected by less than 10 percent of the country's 50 million registered voters. It is dominated by Islamists.
Morsi was already gearing up for the next steps after the constitution's passage, making a last-minute appointment of 90 new members to the Shura Council, a third of its total membership. Current rules allow him to do so, but if he waited until the charter was passed he could only appoint 10.
Friday's appointments added to the handful of non-Islamists in the upper house, but preserved the Islamists' overwhelming hold.
A spokesman for the main opposition umbrella National Salvation Front dismissed the appointments, accusing Morsi of setting up a token opposition much like Mubarak did.