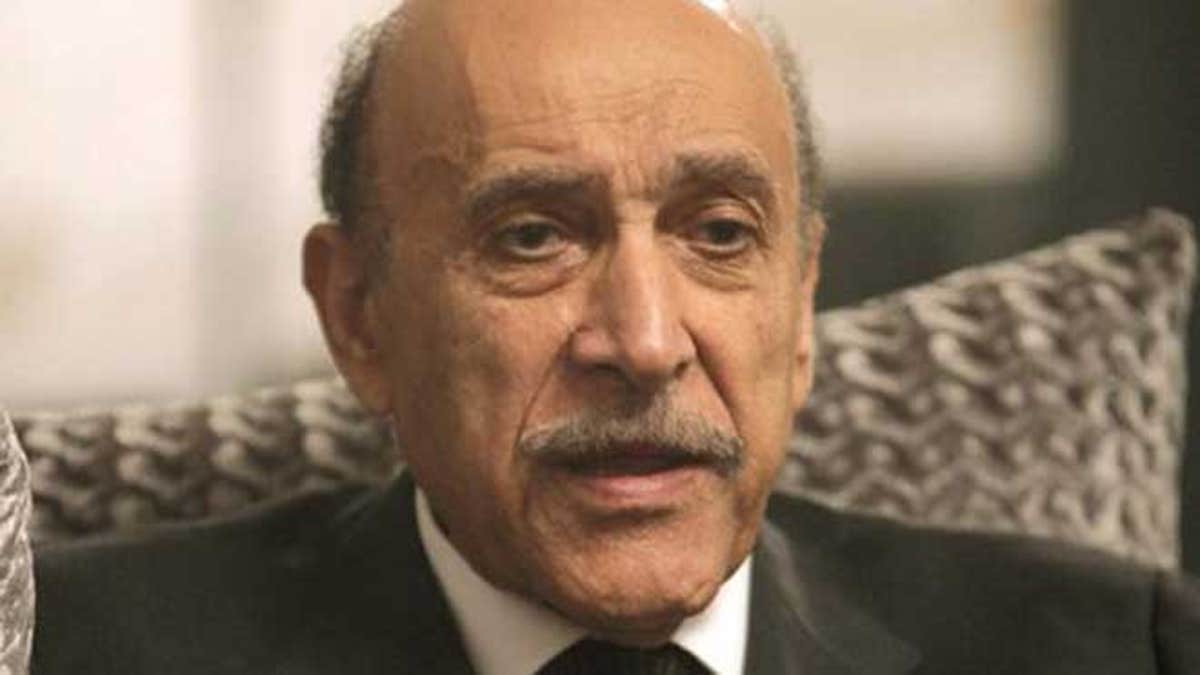 Egypt's former spy chief Omar Suleiman, deposed president Hosni Mubarak's top lieutenant and keeper of secrets, died Thursday, the country's official news agency reported. He was 76.
Suleiman, who said little but had a finger in virtually every vital security issue confronting Egypt, was dubbed by the media as the "the black box." Like Mubarak, he was a fierce enemy of Islamists in Egypt and throughout the region, and a friend to the United States and Israel.
The official Middle East News Agency said that Suleiman had suffered from lung and heart problems for months and that his health condition had sharply deteriorated over the past three weeks. He was treated at a hospital in Cleveland and died early Thursday. His three daughters will accompany the body to be buried in Egypt, according to MENA.
Suleiman was appointed vice president on Jan. 29, 2011, at the peak of last year's revolution, a last-gasp attempt by Mubarak to save his political life as hundreds of thousands of Egyptians took to the streets demanding his ouster. But this and other desperate measures, including talks between Suleiman and the formerly outlawed Muslim Brotherhood, were unable to stave off Mubarak's overthrow.
It was Suleiman who grimly appeared on telelvision on Feb. 11, 2011, to announce that Egypt's leader of nearly three decades was stepping down and handing power to a military council.
This marked the end of the 18-day uprising but opened up a new chapter of tumultuous transition under the rule of the generals.
After the revolution, Suleiman disappeared from public view only to return earlier this year as a presidential candidate, sparking fears of a Mubarak regime comeback. However, the election commission in a surprise move disqualified him along with two Islamist front-runners.
His sudden emergence and disqualification at a time two heavyweight Islamists were also running and disqualified raised suspicions that his candidacy was orchestrated by the military generals to get rid of Islamists.
In April, Suleiman said he decided to run to prevent the Muslim Brotherhood from coming to power. "If the Brotherhood's candidate wins the presidential election, Egypt will be turned into a religious state. All state institutions will be controlled by the Brotherhood," he said in April.
Mohammed Morsi, a member of the Brotherhood, won the presidency last month.
Suleiman, a tall man who was frequently photographed wearing dark sunglass, rarely spoke to the media. He served as intelligence chief for nearly two decades.
For most of that time he played a behind-the-scenes role as the top official in charge of some of the most important issues facing the Egyptian state, including relations with the U.S., Israel and talks with the Palestinians.
He was widely believed to be the military leadership's preferred successor to Mubarak. This created silent tension between Suleiman and the president's younger son, Gamal, who was seen as being groomed by his father as a rival successor.
The uncertainty over the succession, and the fear that Mubarak was trying to set up a family dynasty through his son, helped spark the uprising.
U.S. diplomatic cables posted by WikiLeaks as well as declassified CIA files have identified Suleiman as the point man in U.S.-Egyptian cooperation on counterterrorism. He is believed to have played a direct role in the U.S. rendition program, in which suspected terrorists were sent to Egypt and other countries for interrogation, sometimes involving torture.
Suleiman was born in Qena in southern Egypt and graduated from the country's military academy as an infantry officer in 1955. He rose through the ranks and was appointed deputy head of military intelligence in 1987. He became military intelligence chief in 1991 during the Gulf War, when Egyptians fought alongside other Arab forces in the U.S.-led coalition that drove Saddam Hussein's military out of Kuwait.
Suleiman also indirectly saved Mubarak's life when he advised the former president to take an armored Mercedes with him on a state visit to Ethiopia in 1995. Mubarak survived an Islamist ambush of his convoy.
But in post-2011 Egypt, Suleiman was seen as tainted by his connections to a president who was convicted and sentenced to life imprisonment for failing to stop the killing of protesters during the uprising. Many other key regime figures are now imprisoned pending trials over a catalogue of corruption charges, or have fled the country and sought exile in Arab countries, Europe or the United States.