Dolphin smacks into paddle boarder in Australia
A paddle boarder in Australia ended up in the wrong place at the wrong time last week when riding a wave put him in the path of a jumping dolphin.
The video shows the moment Andrew Hill had the close encounter with the pod of dolphins near Gracetown, in Western Australia.
"Eight or nine of them decided to catch that wave and surf straight at me, which has happened lots of times in the past to me and generally they just take off to one side left or right," Hill told Seven News Perth on Saturday. "Hats off to him, he collected me really well."
In the video, the dolphins can be seen in a wave before one rockets out of the water and hits Hill, knocking him into the water.
Hill told the news outlet he thought the dolphins were herding fish at the time.
80-FOOT MONSTER WAVE GIVES BRAZILIAN SURFER WORLD RECORD, JUDGES SAY
The incident left him "winded," but no worse than any experience on the rugby field, he added.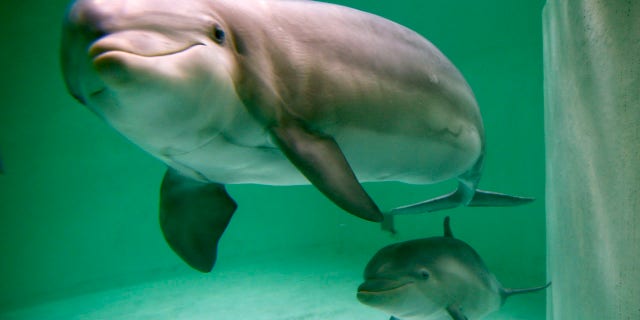 "It's good to see dolphins. Surfers like seeing dolphins, but obviously I'd prefer them to stay a little bit further away than they did yesterday," he said.