Dog reportedly rescues newborn girl from Dumpster in Thailand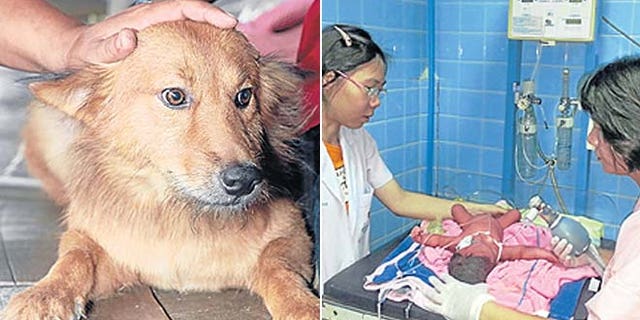 A dog named Pui is being credited for saving the life of a newborn girl, after the animal carried a plastic bag with the baby inside from a Dumpster back to its home in Thailand, the Bangkok Post reported.
The male dog, a Thai Bangkaew, carried the white plastic bag by its mouth from a roadside trash site in tambon Sala Loi in Tha Rua district to his owner's house and then barked loudly to get attention, according to the newspaper.
The owner's 12-year-old niece reportedly opened the bag and found the baby inside.
The newborn, who doctors say was born prematurely, weighed only 4 pounds. She was transferred to a nearby hospital, where she is being cared for, according to the newspaper. Authorities are searching for her mother.
Pui, meanwhile, was awarded a leather collar and a medal from the Tha Rua district Red Cross chapter for his heroic actions.