Djotodia: rebel leader to president in CentrAfrica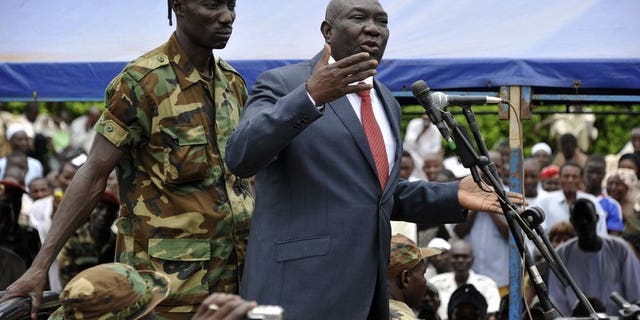 BANGUI, Central African Republic (AFP) – Michel Djotodia, who was sworn in Sunday as the Central African Republic's sixth president, is a reserved but determined leader, a Soviet-trained civil servant before joining the rebel camp.
On March 24 he led the rebels of the Seleka coalition into the capital Bangui and seized the presidential palace. President Francois Bozize, who had been in power for 10 years, fled and Djotodia proclaimed himself president.
A few weeks later Djotodia was voted in as president by a national transition council to provide a veneer of respectability. He appeared to take international concerns on board and pledged to hold free elections within 18 months.
The first Muslim to lead the predominantly Christian nation, he has said the government would be independent of religious influences and would respect the nation's various ethnic groups and faiths.
"I hope to be the last rebel leader" in a country that has known many, he has said in the past, before adding: "I would like those who acclaim me now to be able to do so when I leave, rather than stoning me."
Michel Am-Nondroko Djotodia was born in 1949 in the northeastern Vakaga region, near the borders with Chad and Sudan, but his precise date of birth is unknown and details of his childhood are sketchy.
The enigmatic strongman lived abroad for a long time, notably 14 years in the former Soviet Union, and worked as a civil servant before passing into the rebel camp.
"He's a very determined person. When he decides on something, he goes all the way. When he gives his word, he keeps it," said a rebel in the Seleka coalition who has been with Djotodia for many years, but asked not to be named.
"On the other hand, this quality is also his weakness. He can be rigid and often refuses to be contradicted when he has made a decision," the rebel added.
After Djotodia was trained in the USSR, he served in the planning ministry before going to the foreign ministry, where he was named consul to Nyala in neighbouring South Sudan, then an insurgent part of Sudan before independence.
In 2005, Djotodia joined the rebellion against Bozize, an army general who seized power in a coup in 2003.
He was a founding member of the Union of Democratic Forces for Unity (UFDR), which merged several small groups and marked the start of the emergence of many rebel forces.
But two years later, Djotodia went to Benin to join forces with Abakar Sabone, head of the Movement of Centrafrican Liberators for Justice (MLCJ), a group that had signed peace accords with Bozize.
Arrested by the Benin authorities at the behest of Bozize's regime, Djotodia spent several weeks in jail.
While abroad, Djotodia lost control of the UFDR to Damane Zakaria, who also signed peace accords with the Bozize regime.
By 2012 he had returned however, and succeeded in rallying former supporters and helped found Seleka.
Less than a year later he was the new head of the chronically volatile Central African Republic, but he has struggled to control the disparate rebel groups which brought him to power, and the country risks becoming a "failed state" in the words of Valerie Amos, head of the UN's humanitarian operations.