Divisions appearing among Ukraine's eastern rebels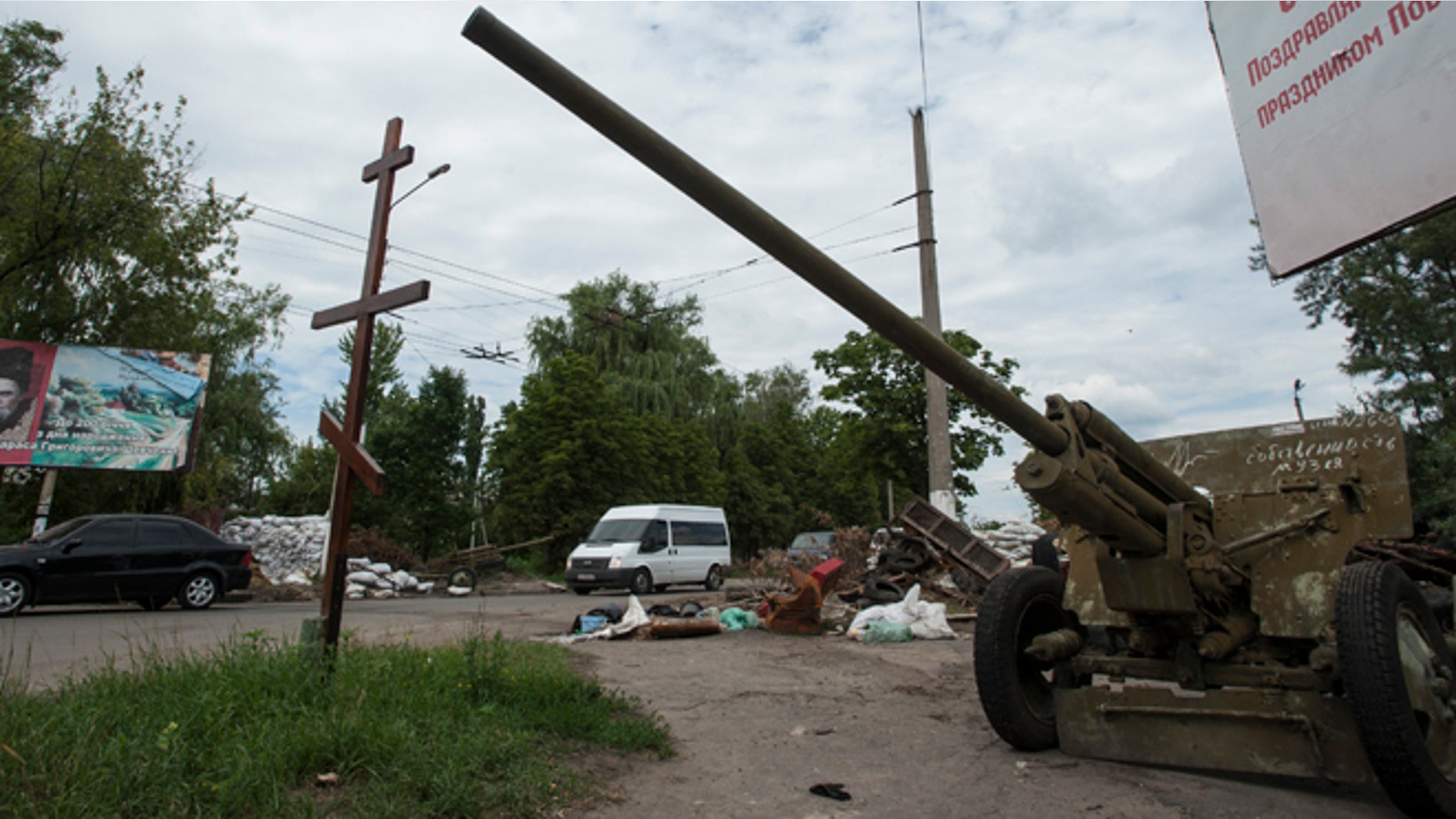 DONETSK, Ukraine – Deep strains emerged Thursday in the ranks of Ukraine's pro-Russia insurgents, as dozens of militiamen turned in their weapons in disgust at Russian inaction and bickering broke out between rebel factions.
In the past two weeks, Ukrainian government troops have halved the amount of territory held by the rebels and grow better equipped and more confident by the day. Once fearful of losing further sections of Ukraine to neighboring Russia, they have shifted their strategy to containing the insurgents, whose pleas to join Russia have been ignored by President Vladimir Putin.
Pushed back into Ukraine's eastern industrial city of Donetsk, the pro-Russia militias appear to be focusing their efforts now on hit-and-run operations, bombing transportation links and bracing for more Ukrainian government troop incursions.
The Ukrainian forces plan to blockade Donetsk and Luhansk — another key rebel stronghold — although they remain unable to fully secure the porous border with Russia, where the insurgency has drawn much of its manpower.
Ukraine says Moscow is arming and supporting the rebels, charges it has denied.
Signs of a rift within the rebellion emerged Thursday after the head of the influential Vostok battalion announced he would not submit to the command of the military leader of the separatist Donetsk People's Republic, Igor Girkin.
Girkin, a Russian better known by his assumed surname Strelkov, has attained hero status among supporters of the insurgency. Ukrainian authorities have identified him as a former Russian military intelligence agent active in taking over Crimea before Russia annexed it in March.
Yet he also has been criticized by some for leading the rebel withdrawal last weekend from the eastern city of Slovyansk, 70 miles north of Donetsk, reportedly to protect civilian lives.
Vostok commander Alexander Khodakovsky alluded to that in his remarks Thursday.
"There cannot be a single leader giving orders," he declared. "Because if Strelkov suddenly decides what he wants is — in the interests of protecting the lives of Donetsk citizens and the lives of militiamen — to abandon Donetsk, then we will not follow his orders."
Khodakovsky was speaking in Makiivka, a town just outside Donetsk, where his men have relocated to after a reported falling-out with Strelkov.
The ill-feeling also appears to have been due to disappointment over the rebels' perception that Russia has done too little to help them.
"Strelkov is a military officer of non-local domicile, while we are locals and will not, therefore, allow the people of Donetsk to remain without our support and protection," Khodakovsky said.
Strelkov could go back to Russia whenever he wanted, he noted.
In another sign of deteriorating morale among the rebels, several dozen militia fighters garrisoned in a university dorm in Donetsk abandoned their weapons and fatigues in their rooms Thursday.
"Russia abandoned us. The leadership is bickering. They promise us money but don't pay it. What's the point of fighting?" said 29-year old Oleg, a former miner who served in the Kalmius battalion.
Oleg, who declined to give his surname for fear of being punished for desertion, said he had served in the militia for a month and planned to go home to Makiivka.
Strelkov has admitted facing substantial difficulties enlisting the support of the locals in eastern Ukraine.
"In truth, the number of volunteers for the several million-strong population of Donbass, for a mining region where people are used to dangerous and difficult work, has been somewhat low," he told a rebel-run television station this week. "It is very difficult to protect this territory with the forces at our disposal."
At a press conference, the prime minister of the Donetsk People's Republic dismissed talk of infighting.
"These are lies and disinformation. There are no disagreements. We are now organizing our joint work," Alexander Boroday said Thursday.
He said 70,000 Donetsk residents have already been evacuated from the city and more will follow. He did not elaborate. In the past few weeks, tens of thousands have left the region to avoid the fighting.
Boroday traveled to Moscow earlier this week and returned with an ease that indicates Ukrainian attempts to regain full control over their border have been unsuccessful.
Ukrainian President Petro Poroshenko has demanded the rebels give back the border posts under their control and even let a cease-fire expire when the posts were not returned. Ukraine has also accused Russia of letting the rebels use its territory to attack border posts from both sides. Russia says Ukrainian shells have sometimes landed on its territory.
In Moscow on Thursday, Foreign Ministry spokesman Alexander Lukashevich said Moscow was prepared to invite its Ukrainian counterparts to jointly monitor the border. He added, however, this would only be possible in case of a cease-fire.
While rebels hold Donetsk, the city's international airport, which has been closed since early May, remains in government hands.
Militia forces mounted an assault on the terminal Thursday, lobbing artillery fire at the building.
"Our aim was not to capture the airport. The enemy sustained serious casualties," Strelkov said.
His claim could not be independently verified.
Rebels regularly conduct lighting attacks on checkpoints, and earlier this week they blew up three bridges leading into Donetsk to hinder the movement of Ukrainian troops.
While waging what increasingly resembles guerrilla warfare, Strelkov has said he wants to transform the rebels into a regular standing army.
"A unified command structure is being formed out of the armed forces of the Donetsk and Luhansk republics. A single command will be created soon," he said.
The rebel leadership said this week it will pay monthly salaries to its soldiers of between $500 and $700. Plans to create a professional army also reflect the inability to rouse more locals into volunteer brigades.
"I know many of them from school. I support them but I am not going to fight," said 39-year laborer Artyom Yermolyuk. "What awaits them when this is all over and the Ukrainian authorities are here?"