Despite U.S.Skepticism, Venezuela Announces 9 Arrests In Cocaine Smuggling Ring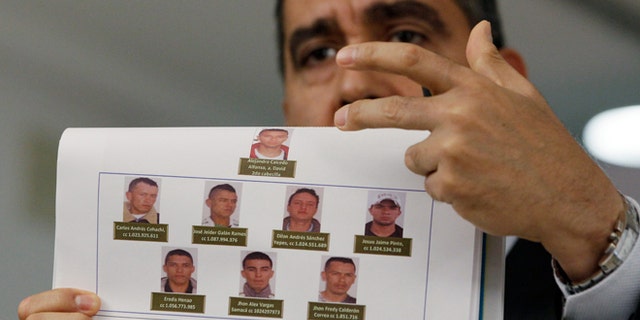 Caracas, Venezuela – With more arrests with airline workers suspected, Venezuela's top police official said that the smuggling of 1.4 tons of cocaine in 31 suitcases on an Air France flight from Caracas to Paris has led to nine arrests on two continents.
Yet the case, kept quiet for nearly two weeks by authorities, also lends credence to Washington's accusations that Venezuela has become a major drug transit country due to high-level corruption in its military. It controls Simon Bolivar International Airport, the drugs' port of departure.
France's interior minister, Manuel Valls, praised the investigation that led to six arrests in France and three in Venezuela. But he questioned how nearly three dozen suitcases stuffed with illicit drugs could get through security at a major airport and make it aboard a single commercial flight.
"It's not normal that you can carry more than a ton of cocaine on an Air France plane," he said Monday on Europe-1 radio. "The fight against drugs requires all the players, notably transport companies, to participate in this cooperation."
Valls said police knew where and to whom the drugs were heading but wouldn't divulge the information or provide details on who was arrested.
His Venezuelan counterpart, Miguel Rodríguez, told reporters that "mafias comprised of Italian and English citizens" were involved and that French police had been tracking them since July.
The Paris prosecutor's office said the six people in custody were to appear before a judge Tuesday to determine whether they would be charged. A spokeswoman said none were French but would not discuss their nationality. Britain's Foreign Office said three Britons were among those arrested.
Rodriquez said authorities had interviewed more than 15 people and "in the coming hours we will surely be announcing more arrests."
On Sunday, police arrested two National Guard sergeants and the lieutenant assigned to counterdrug duties the airport when the incident occurred and Rodriguez said authorities "presume complicity at the airline."
He noted that each of the 31 suitcases would have been far over the usual maximum baggage weight allowed at an average of more than 40 kilograms (88 pounds) each.
The Colombian cocaine was placed on Flight 368, which departed on Sept. 10, and seized the following morning at Charles de Gaulle Airport, he said. Air France said it was working with police and conducting an internal investigation. The baggage tickets had fake names, said Alejandro Keleris, director of Venezuela's counterdrug agency.
There was no explanation given for why authorities waited nearly two weeks to announce the seizure.
Michael Shifter, president of the Inter-American Dialogue think tank in Washington, said the case supports U.S. accusations of high-level support for drug trafficking in Venezuela's military as it was unlikely two sergeants and a lieutenant acted alone.
"The quick arrests were not surprising — (President Nicolás) Maduro understands this is a real problem for him," Shifter said. "But it is doubtful that any higher-ups in the military who might have been involved will be held to account."
Shifter said it is "hard to escape the conclusion that at least parts of the Venezuelan military are involved in drug trafficking."
Under President Hugo Chávez, who died in March of cancer, Venezuela became a major transit country for U.S- and Europe-bound Colombian cocaine, including via new routes to Africa.
The U.S. government has repeatedly decertified Venezuela as a partner in the drug war. The White House issued its most recent annual rebuke Sept. 13, listing it with Burma and Bolivia as "failing demonstrably" to meet obligations under international treaties.
Venezuelan officials call the allegations unfounded. They say they have stepped up arrests of traffickers and drug seizures. Keleris says Venezuela has captured more than 100 kingpins since 2006, extraditing most of them, including to the United States.
U.S. and Colombian counterdrug officials acknowledge Venezuela has cooperated in several key cases. However, they say that has not purged drug corruption from the top ranks of Venezuela's military, which long provided Chávez with a backbone of loyal support and continues to play a dominant role in the country.
Among Venezuelan officials on the U.S. Treasury Department's list of designated drug kingpins are Gen. Hugo Carvajal, the military's counterintelligence chief, and retired Gen. Henry Rangel Silva, a former defense minister and currently governor of Trujillo state.
Last month, a former National Guard captain was added to the list: Vassyly Villarroel. Treasury called said Villarroel used Simon Bolivar airport, among others, as well as seaports and official government vehicles to ship cocaine to Mexican traffickers including the Sinaloa cartel, the Zetas and the Beltrán Leyva organization.
Villarroel was indicted in 2011 in New York's eastern district on cocaine trafficking charges.
Based on reporting by The Associated Press.
Follow us on twitter.com/foxnewslatino
Like us at facebook.com/foxnewslatino