Despite legal drama, Panama's president vows canal expansion will be done by May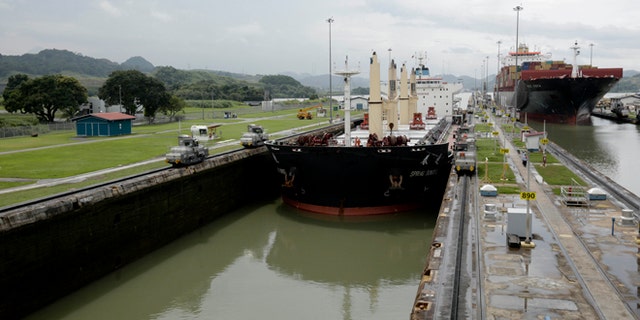 Panama's president has announced that the long-awaited expansion of the Panama Canal will be completed in May, despite a series of cost overruns, labor disputes and other snafus that have plagued the project for years.
With the project about 96 percent complete, Panamanian President Juan Carlos Varela urged the consortium in charge of the expansion on the 101-year old canal to put aside legal disputes and focus on finishing the project.
"With respect, I am calling on the contractors for the expansion project to hold dialogue with the Panama Canal Authority, to allow work to be completed, to leave legal disputes in the hands of the competent authorities and to avoid mediatized differences that in no way help the image of the contractors, the Canal Authority and the Republic of Panama," Varela said, according to Agence France-Presse.
Panama is expanding its canal to allow larger vessels carrying more freight to traverse its waterway. The expansion will allow ships to carry double the amount of cargo than ships that currently cross the canal.
The consortium, Grupo Unidos por el Canal de Panama, started the expansion work on the canal in 2007, but labor strikes and extra costs have pushed back the completion date from October 2016 to the projected date in May. A Dispute Adjudication Board ordered the state's Panama Canal Authority to pay the consortium $17 million for extra labor costs and for a strike called by workers.
The order, along with the overruns, has caused the cost of the expansion to climb well above the projected $5.3 billion.
In his announcement last weekend, Varella also mentioned that it was important to start a study on developing a river basin to guarantee water supplies for human use and for the functioning of the canal.