Democrats reject GOP plan to save Puerto Rico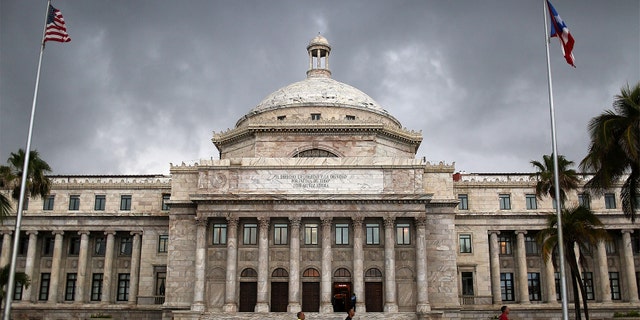 WASHINGTON – House Democratic leader Nancy Pelosi says a Republican plan to create an oversight board for Puerto Rico would exert "undue and undemocratic control" over the U.S. territory, echoing complaints from the island's leaders as they struggle with $70 billion in debt.
House Republicans released draft legislation on Tuesday that would create a five-person board designed to audit the territory's government and create new fiscal plans and budget measures — steps they say are necessary for Puerto Rico to get its economy back on track. The board would have the authority to enact the plan if the territory's governor and legislature fail to do so.
In a statement Tuesday, Pelosi, D-Calif., said the board would be too powerful. "The sweeping powers of the oversight board proposed in Republicans' current discussion draft are far from what Democrats can support," she said.
Maryland Rep. Steny Hoyer, the No. 2 Democrat in the House, and New York Democratic Reps. Nydia Velázquez and José Serrano also said they believe the control board would undermine Puerto Rico's laws.
This after Puerto Rico's Governor Alejandro Garcia Padilla last week called the proposed legislation "shameful and degrading," and the President of the Puerto Rican Senate, Eduardo Bhatia, said the current proposed legislation evokes "the worst colonial subjugations."
House Speaker Paul Ryan, R-Wis., stood by the draft proposal, calling it "thoughtful, comprehensive legislation that gives the U.S. territory the tools it needs to deal with its systemic fiscal and budgeting problems — without a taxpayer bailout."
Outside conservative groups have reserved judgment on the plan and Ryan may need the support of Democrats to get the plan through the House. Natural Resources Committee Chairman Rob Bishop, R-Utah, said his panel is still working on the bill and will listen to concerns before the committee introduces a final version in April.
The draft bill would not give Puerto Rico the broad bankruptcy authority it has asked for, but would allow the oversight board to decide whether debt restructuring is necessary. If the board decides it is needed in some areas and certain conditions are met, it could facilitate court-supervised debt restructuring.
Puerto Rico, along with the Obama administration and many Democrats in Congress, has pushed for a restructuring framework for the island's debt, saying it would not cost U.S. taxpayers. But some Democrats have been wary of an oversight or control board asserting too much authority over the territory's government.
Pelosi said Democrats and Republicans have been working together on the issue and she hopes to work with Ryan and Bishop "to address the significant problems" of the draft legislation.
In a statement issued Tuesday evening, the Treasury Department said the draft needs improvements, without saying exactly what those should be.
"Puerto Rico urgently needs the ability to comprehensively restructure its financial liabilities paired with independent oversight that respects the Commonwealth's self-governance," said spokesman Daniel Watson.
Bishop is also facing pressure from the right on the issue. Conservative advocacy group Heritage Action said earlier this month that it is wary of a control board that allows debt restructuring.
"While a control board could have a positive effect on Puerto Rico's internal fiscal mess, it may not have the tools necessary to truly unleash needed economic growth on the island," the group said in anticipation of the draft bill.
Officials in Puerto Rico have also criticized the draft legislation. Gov. Alejandro Garcia Padilla said on Monday that he would fight the bill as presented because he felt the board would have more power than Puerto Rico's government, and Puerto Rico's Senate approved a resolution late Monday that rejected Bishop's draft.
The resolution demands that Congress collaborate with the island's leaders to craft a plan that provides a debt restructuring mechanism and does not threaten the democracy of the U.S. territory.
"People who hand over democracy in exchange for economic security end up losing both things," said Senate President Eduard Bhatia. "I don't have a problem with a board that advises, that supervises, one with which we can have a discussion. But we will never accept a board that has control over Puerto Rico's affairs."
Garcia began meeting with political supporters and foes on Tuesday as he sought to present a united front against the bill.
Pedro Pierluisi, Puerto Rico's non-voting representative in Congress, has been working with Bishop on the legislation. But he said last week that for the board to be effective, "it must have teeth but not fangs."
Three Senate committees introduced legislation in December that also would create an authority to oversee the territory's finances, but none of the panels has yet considered it. Senate Majority Leader Mitch McConnell, R-Ky., has not said if the Senate will move a bill.
Puerto Rico has been mired in economic stagnation for nearly a decade. The territory's financial problems grew worse as a result of setbacks in the wider U.S. economy, and government spending in Puerto Rico continued unchecked as borrowing covered increasing deficits. Garcia has said the island is headed for a humanitarian crisis.
Based on reporting by the Associated Press.