Defiant Iran announces 2 new nuclear-linked projects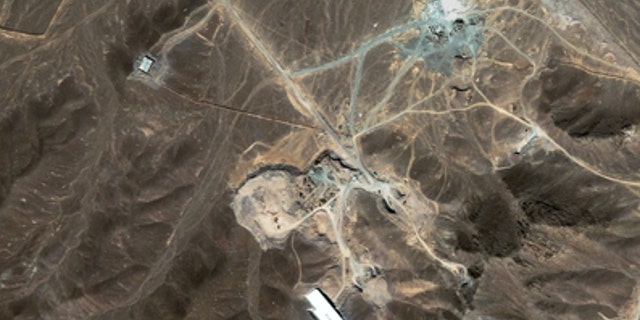 Iran announced two key nuclear-related projects on Tuesday that expand the country's ability to extract and process uranium, which can be enriched for reactor fuel but also potentially for atomic weapons.
The development came just days after another round of talks with world powers seeking to limit Tehran's atomic program ended in a stalemate.
Iran already has uranium mines and the ability to turn the raw ore into a material called yellowcake, which is the first step in the enrichment chain. But the new facilities -- the country's largest uranium mine and processing facility -- give Tehran more self-sufficiency over the raw materials and underscore Iran's drive to expand its nuclear capacities even as world powers press for concessions.
Iran and the six-nation group -- the five permanent U.N. Security Council members plus Germany -- remain stalemated after the latest round of talks last week over efforts to rein in Iran's nuclear program. U.S. Secretary of State John Kerry has said the "door was still open" for a negotiated pact with Iran, but urged Tehran's leaders to take the first steps to address international concerns that they could seek nuclear weapons.
Iran says it only wants nuclear reactors for electricity and medical applications. Iranian authorities have demanded that world powers acknowledge the country's right to enrich uranium and ease U.N. and Western sanctions.
"President (Barack) Obama could not be more clear: Iran cannot have and will not have a nuclear weapon," Kerry said on Tuesday following talks in Jerusalem with Israeli Prime Minister Benjamin Netanyahu, whose nation has warned it could consider military options against Iranian nuclear sites.
"We are open to negotiation," Kerry added. "But it is not open-ended, endless negotiation. It cannot be used as an excuse for other effort to try to break out with respect to a nuclear weapon."
Tuesday's announcement of the new uranium sites suggests Iran intends to follow through with pledges to expand its nuclear capabilities in defiance of sanctions and other diplomatic pressures.
President Mahmoud Ahmadinejad ordered the start of symbolic start of operations through a video conference for Iran's National Day of Nuclear Technology, which marks the anniversary of the first time Iran enriched uranium in 2006.
Ahmadinejad also reiterating past proclamations that Iran has "gone nuclear" and the U.S. and its allies cannot stop Iran's progress on what the country calls peaceful atomic development.
State TV simultaneously showed ceremonies at Iran's biggest uranium mine at Saghand and a uranium ore concentrate production plant in Ardakan, both in central Iran.
Neither site represents breakout technology for Iran, which already has smaller uranium mines and processing facilities. But it gives Iran greater control in making the raw materials for enrichment to nuclear fuel and, potentially, for warhead-grade material.
Saghand consists of an open pit with a deep mine reached by two shafts. The mine has a capacity of 132,000 tons of uranium ore per year.
The Ardakan Yellowcake Production Plant is Iran's industrial-scale facility that turns ore into concentrate, also known as yellowcake, the feedstock for enrichment.
Ahmadinejad defiantly said Iran has already achieved proficiency in nuclear technology, which is now "in the hearts, minds and elbows of our scientists."
"You could not block our access to nuclear technology when we didn't have it. How can you take it from our hands now that we have it?" he said, addressing the West. "Iran has gone nuclear. Nobody will be able to stop it ... Cooperation with Iranian nation is the best solution for you."