Dancing in Damascus: Ballerina clings to art, hope, amid Syria's hellish descent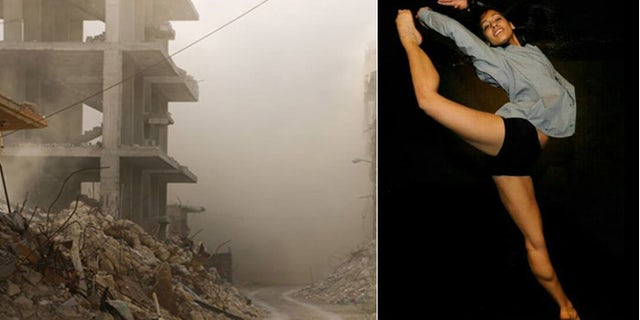 NEWYou can now listen to Fox News articles!
As her city and nation continues its long and bloody descent into hell, Damascus native Nagham A-k Maala dances - and clings to fading memories and hope for the future.
Making her way from her small apartment in the city where she grew up, passing bombed out buildings, crowded cafes and ubiquitous security checkpoints, Nagham ventures daily to the studio where she first honed her internationally recognized skills as a ballerina. The 26-year-old has the means to flee a civil war that has claimed an estimated 400,000 lives, but remains to share her art with those who are trapped in Syria's capital.

"Now is not the time to leave," she told FoxNews.com in an online interview. "Now, my country needs me. I still have duties here. I should take care of dance in Damascus."
Nagham directs the contemporary and classical program at the famed Higher Institute of Dramatic Arts in the ancient city's Umayyad Square. She believes her role in the war is to fight to keep art alive, even as fighting has closed in on Damascus, where embattled President Bashar al-Assad's regime holds on.
"Dance is my oxygen, it keeps me alive. Without it, I couldn't survive."
"Dance is my oxygen, it keeps me alive," she said. "Without it, I couldn't survive. And if I give up and leave the school is going to close."
In a recent performance entitled "Potential Distortions," and choreographed by Nagham, a trio of gray-clad dancers gracefully pantomimed the violence, evoking images of slain civilians and falling buildings as sounds like gunshots punctuated eerily sad music. In another segment, the troupe moved in fluid desperation amid a scaffold-like structure, perhaps portraying prisoners, or victims trapped in rubble.
At first, Damascus remained relatively safe from the fighting that engulfed the nation's northern region and involved government forces, internationally-backed rebels and rival terrorist groups ISIS and Al Qaeda. But in recent years, the once bustling capital has been ravaged by car bombings, suicide attacks and the barrel bombs of its own government, dropped on rebel enclaves.
Nagham counts herself "lucky" that most days she can make it to the studio and to an evening job teaching at a local ballet school, given the economic hardship brought on by the war. She described a daily grind in which traveling short distances is perilous and time-consuming. The sound of exploding mortars, crumbling buildings and sirens provide a grim soundtrack to her commute.
"And for sure barrel bombs are a big problem," she continues. "Some supplies are still available, but double the price. The electricity is cut for many hours in the day. I try to travel on weekends to see my parents outside the city, but a lot of days the road is closed because of clashes."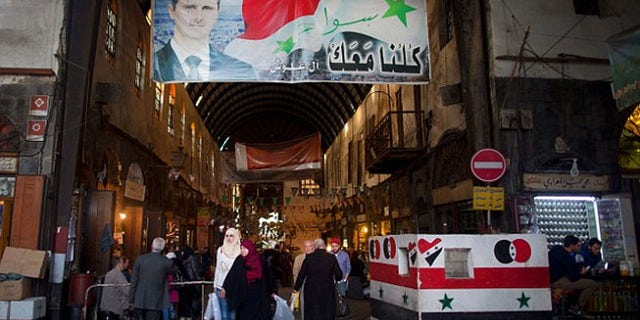 It is on the outskirts of the city where fighting is fiercest and destruction most devastating. While inside Damascus remains predominantly under the control of the Assad regime, the threat of ISIS infiltration lurks. Over the weekend, at least four bomb blasts hit the southern Damascus suburb of Sayyida Zeinab – home to the holiest Shia Muslim shrine – killing at least 83 people and wounding another 178, according to state media. The terror group quickly took responsibility. It followed a string of deadly suicide attacks inside the city in recent weeks.
More than half of Syria's pre-war population of 22 million has been displaced, wounded or killed since the fighting began. The life expectancy has plunged to 55 from 70 in 2011 and the nation's infrastructure has been devastated. A partial ceasefire brokered by the United States and Russia is to take effect this week, but no one expects ISIS or Al Qaeda's Al Nusra Front to abide by it.
"You see death in front of your eyes many times, and then death doesn't mean a lot to you, you stop being afraid of it," Nagham said. "When a mortar shell falls on your neighborhood it is like rain. For the first time, second time, third time you just lie behind your doors and cry. You pray for all this to stop and be calm. Then, you just get used to hearing that sound. You stop feeling. It has no meaning anymore."
Unlike the vast majority of the rest of the country, Damascus still offers glimpses of normalcy. Cars maneuver through its streets. Residents go to work, eat in restaurants and shop at stores. But even as Nagham and her friends carry on as best they can, they are perpetually haunted by an uneasy feeling of what could happen next.
"I wake up at midnight and wait," she said. "Just waiting. We don't know when the sounds will come again."
Prior to the war, which was borne of the Arab Spring and began with the hope that the brutal Assad dictatorship could give way to democracy, the arts thrived in Syria. When tensions first flared, the resistance to Assad was evident in street art, film and music. As the carnage mounted, looting, destruction and censorship sent artists and the proprietors of galleries and studios fleeing to countries like Lebanon and the Gulf States.
"We used to have Russian and Dutch experts come and teach and we had different workshops with experts from all these different countries," Nagham said. "Now, all I can do is watch as the level of dance development goes down. Is what I'm doing teaching enough? Can I do more to save my world?"
Founded in 1977, the Higher Institute for Dramatic Arts was widely praised for its contribution to the global arts scene. Despite the surrounding turmoil – and due largely to Nagham's efforts, it celebrated its 2015-2016 academic year with an array of events and performances, with a small handful of devotees like Nagham determined to keep it going.
International humanitarian organizations have sponsored programs using dance and other art forms as therapy in refugee camps in neighboring countries and in Europe. When the fighting in Syria ends, Nagham hopes to use her art to help heal her homeland.
"I really don't know if there is any future left here," she said. "I just hope this all comes to an end soon, I dream to see my country recover from this. I dream to see it stronger than it used to be. So, that is why I stay."