Cyprus president: No peace deal with Turkish military rights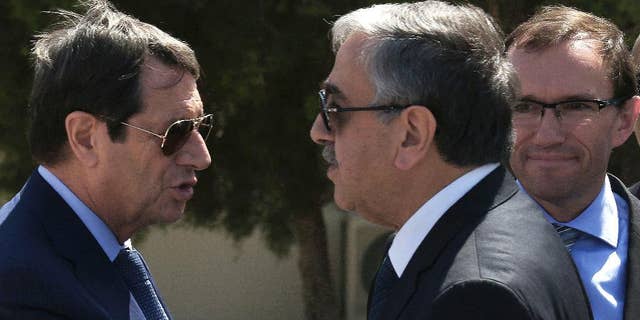 NEWYou can now listen to Fox News articles!
NICOSIA, Cyprus – Cyprus' president says an insistence by breakaway Turkish Cypriots to cede Turkey the right to militarily intervene under a hoped-for deal reunifying the divided Mediterranean island nation is "excessive and unjustified."
President Nicos Anastasiades says in a televised address Friday on the occasion of Cyprus' 56th anniversary of independence from British colonial rule that no modern state within the European Union has any need for third-country security guarantees.
He said any negotiated settlement to the island's 42 year-old ethnic division must eliminate any dependence on third countries.
Anastasiades said, while he acknowledges Turkish Cypriot mistrust of Greek Cypriots, he would not "satisfy unjustified concerns" at the expense of "existing and legitimate" Greek Cypriot fears.
Cyprus was split in 1974 when Turkey invaded after a coup aimed at union with Greece.