Cuban Dissident Yoani Sanchez Receives Rock Star Welcome In Miami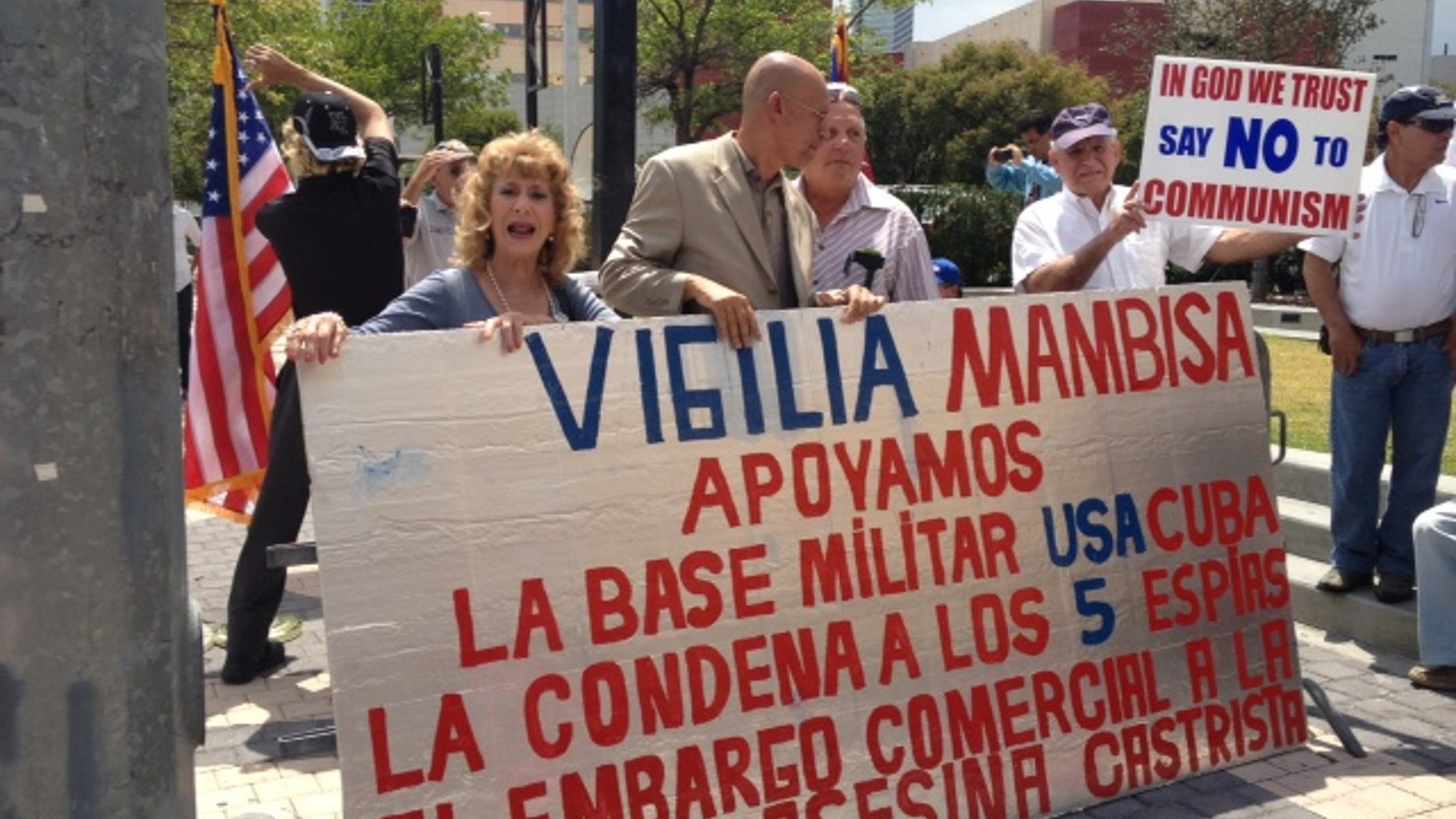 Renowned Cuban political dissident and blogger Yoani Sanchez could easily make Miami her new home.
She's nothing short of a rock star there.
On her first-ever tour of the United States, Sanchez was welcomed by a roaring crowd of Cuban-Americans in Miami on Monday afternoon.
"Freedom! Freedom! Freedom!" shouted audience members inside Freedom Tower, where thousands of Cubans were processed as exiles in the 1960s. All it took was three words from Sanchez to make the packed room erupt again.
"I am Cuban," she said.
Sanchez, the outspoken dissident whose Generation Y blog is read by 15 million people a month and is translated into 20 languages, is on an 80-day world tour, denouncing the Communist regime in Cuba as an epic failure at every stop she makes.
"Let us tear down that wall, that Berlin Wall, that is not made of concrete and steel, but of lies," said Sanchez, pleading for global action to do what 53 years of the U.S. trade embargo on the island has failed to achieve: Toppling the Castro brothers.
She may have been heckled in Brazil and New York, but there was none of that in Miami, home to the country's largest Cuban community, which remains staunchly supportive of the embargo.
Yet Sanchez is not one of them.
She wants the U.S. government to end the blockade, saying it allows the Cuban leaders an easy excuse with which to blame every policy failures.
Miami-Dade College President Eduardo Padron honored Sanchez's championing of human right, honoring her with the school's Presidential Medal. Previous recipients include Lech Walesa, Mikhail Gorbachev and Bill Clinton.
Florida Senator Bill Nelson gave Sanchez the most American of gifts: The actual U.S. Flag which flew atop the Capitol last month on the day she visited Congress.
And City of Miami Mayor Tomas Regalado presented Sanchez with a Key to Miami, one of three mayors to offer the keys to their cities to her.
"When you get to the Cuban airport, if they take it away, we'll mail a new one," Regalado quipped.
Sanchez's sister and brother-in-law live in Miami, and she spent the weekend catching up in person with them for the first time in two years.
Sanchez said she applied to leave Cuba 20 times in the past decade – and promptly rebuffed.
But this time, Raul Castro's exit visa reforms granted her freedom to travel, which Sanchez insisted was not being financed by the Cuban government, but through the generosity of her supporters.
When she returns to Cuba, Sanchez says she expects renewed harassment and propaganda, with the government deriding her as a tool of the U.S. capitalist system.
They can harass and intimidate all they want. As she sees it, she "will never shut up."
Ironically, the people she most wants to inspire with her weekly online critiques -- the 11 million Cubans living on the island -- cannot read her tweets and blog entries, since only about 20 percent of Cubans have Internet access.
Sanchez's trick has been to pose a tourist in Havana and sneak into tourist hotels to get online.
Up next for Sanchez is a reception Monday night across town at Florida International University, where she'll be presented the Medallion of Courage.