Cuba Accuses Google's YouTube of Censorship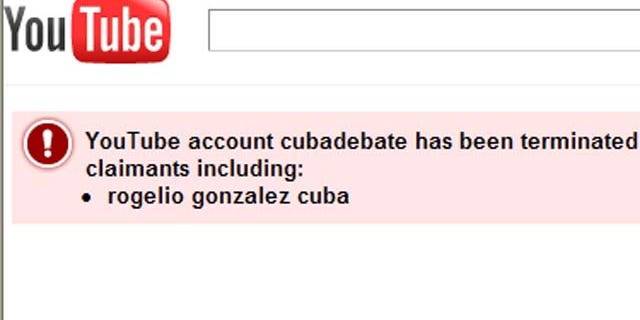 Cuba's state-run online site, Cubadebate.cu, is denouncing YouTube for closing its accounts over copyright infringement.
On Friday, Cubadebate, a state run website, said that YouTube closed its account citing "copyright infringement" regarding a video about Cuban, former CIA agent Luis Posada Carriles, who was on trial this week in the US for immigration fraud.
Rosa Miriam Elizalde, the Editor of Cubadebate defended the use of the video, "If Cubadebate is violating copyright then you have to shut down all of Youtube because it is the mecca of internet piracy. In fact, there are a lot of videos on Youtube that are using stolen images from Cubadebate."
A YouTube spokesperson said, "YouTube suspends user accounts that have multiple claims of copyright infringement against them." Claims must be made officially through the site.
According to YouTube policy, when a video violates copyright infringement then that sole individual video can be taken down but when there are three or more infringements that's when the channel itself gets shutdown.
You can reach Bryan Llenas at: Bryan.Llenas@foxnewslatino.com
Follow us on twitter.com/foxnewslatino
Like us at facebook.com/foxnewslatino