Congo: UN Says at Least 220 Dead in Oil Explosion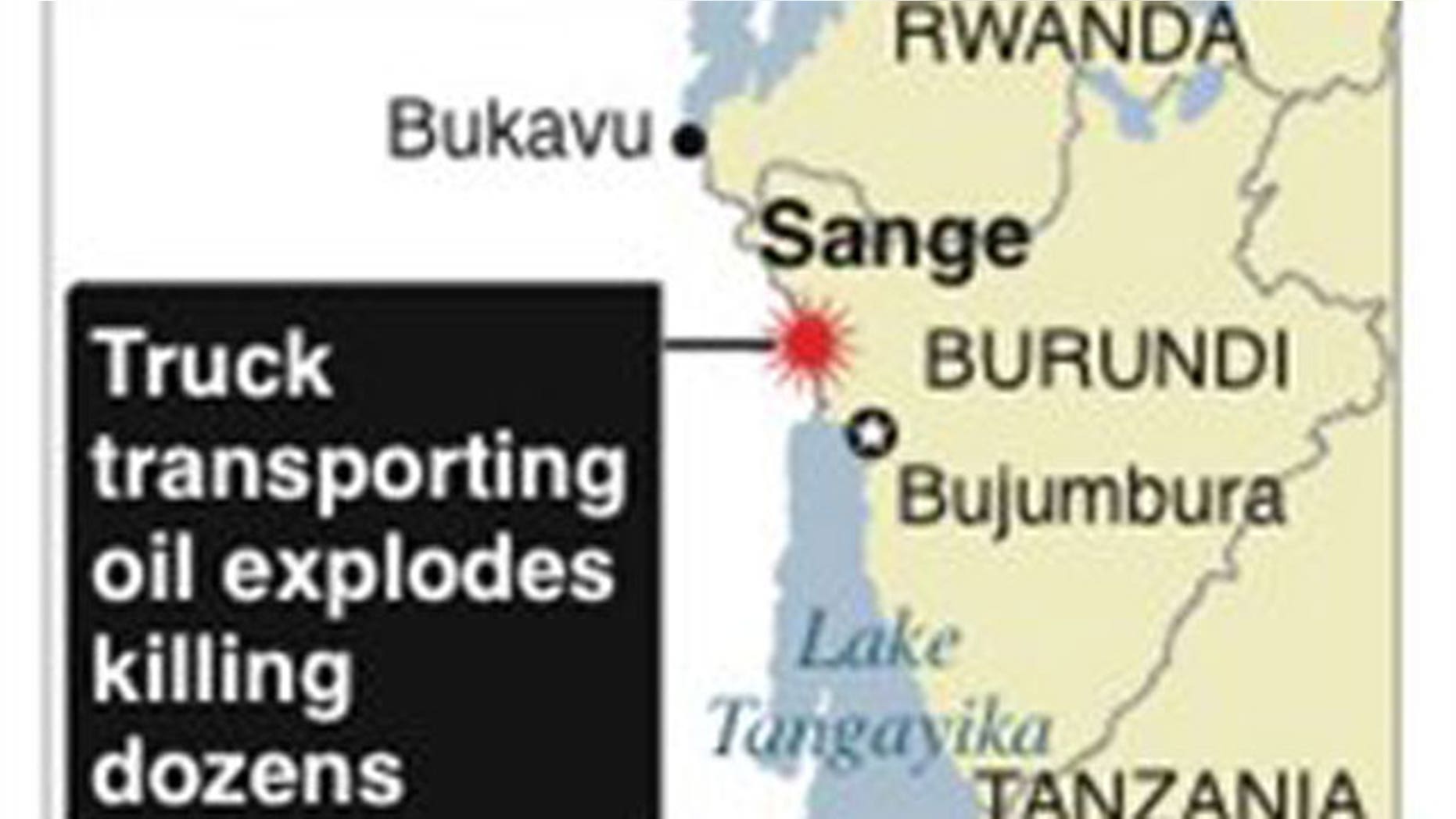 SANGE, Congo -- A tanker truck hauling fuel on a rural eastern Congo highway overturned, gushing oil and exploding in a massive fireball that killed at least 220 bystanders, scores of whom had been watching the World Cup in flimsy roadside shacks, officials and witnesses said Saturday.
Among the dead were 61 children and 36 women, the Red Cross said. Also killed were villagers who had descended on the truck to siphon fuel illegally from the wreckage, apparently unaware of the danger, the U.N. said.
U.N. peacekeepers rushed to evacuate more than 200 wounded from the scene by helicopter and ambulance, while Red Cross teams carried the charred bodies from the scene in body bags and buried them in two mass graves a few miles away.
The truck overturned as it was trying to pass a minibus late Friday near the village of Sange, around 20 miles north of Uvira, a town on the northern tip of Lake Tanganyika near the Burundi border, said Mana Lungwe, manager of the Congolese oil company that owns the truck. The vehicle began gushing oil, then burst into flames an hour later, he said.
Lungwe said the driver was injured in the accident and taken to a local clinic before the blast occurred. Sange is located between Uvira and the Congolese provincial capital, Bukavu, further to the north.
In Sange on Saturday, the remains of the tanker's blackened carcass lay tipped on its side, its tires burnt off. Along the side of the road a few meters away, the remains of three wood and brick shacks smoldered where hundreds of people had gathered to watch the World Cup.
The explosion took place in between matches, as people were watching television and milling outside.
"It was so terrible, we lost so many family and friends," said Umoja Ruzibira, 25, who was about 100 meters away when he heard a huge explosion and saw a fireball engulf thatch huts in a 20 meter radius. A teeming market nearby had also been reduced to ashes. "There were so many men, women and children around when it happened," Ruzibira said.
James Reynolds, the deputy head of the International Committee of the Red Cross in Congo, said at least 219 people died -- 208 immediately, and another 11 from burn wounds after they were taken to surrounding medical facilities. The U.N. estimated the death toll at at least 220, and a police chief in Sange, Flament Baliwa, put the toll at 232 dead.
"Many of the bodies were burnt far beyond recognition," the Kinshasa-based Reynolds said. "It' a terrible scene," and a tragedy, he added, "for people who didn't have very much to begin with."
Madnodje Mounoubai, a spokesman for the U.N. peacekeeping mission, said some residents were trying "to siphon the contents of the tanker," when the explosion happened.
Desperately poor people in Congo -- which is still struggling to recover from a 1998-2002 war -- often descend quickly around damaged or disabled oil trucks leaking fuel on roads and highways, carting it away with plastic jugs, unaware of the danger of doing so.
Some of the worst tragedies have occurred in Nigeria, where thousands have died as crowds siphoned fuel from ruptured or pierced oil pipelines that subsequently exploded. In a separate accident Friday involving another fuel truck, an out-of-control gasoline tanker flipped over and exploded outside the gates of a local hospital in northern Nigeria, killing 14 people in an inferno in Gombe state.
Reynolds said the ICRC has dispatched medical supplies and body bags to collect the dead and help wounded alongside local volunteers for Congo's Red Cross.
"We're doing our best to ensure that the wounded are treated as well as possible," Reynolds said.
"The more lightly burned or less injured are being treated on the spot at a health center in Sange."
A U.N. helicopter has so far evacuated 35 wounded to Bukavu, Mounoubai said. Other peacekeepers were taking more wounded to nearby hospitals by ambulance.
It was not immediately clear what caused the explosion.
Reynolds said the casualty toll was likely high in part because, although the town was small, "it was densely populated, it was close to a market, and a lot of the houses are made with thatched roofing."
After the truck flipped over and began gushing fuel, "a big crowd rapidly gathered around to see what happened," Reynolds said. "And sometime after, the leaking oil caught fire and the fire spread extremely quickly."
Mounoubai said the truck overturned around dusk and was carrying fuel from Bukavu to Uvira. Other officials and U.N.-backed Radio Okapi reported the truck had begun its journey in Tanzania.
The U.N.'s acting special representative to Congo, Leila Zerrougui, expressed condolences for the tragedy and said the U.N. "will do everything possible to help authorities and assist victims."