Conflicting Iran-US takes on informal agreement means tough work ahead for final nuke deal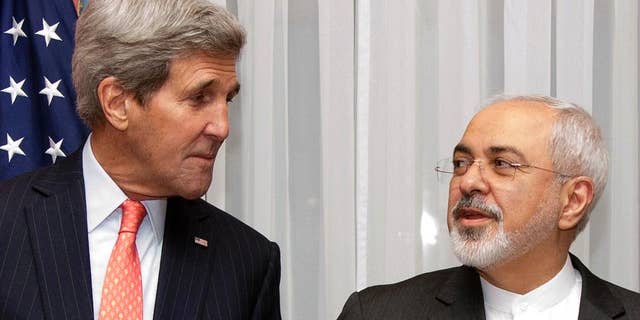 VIENNA – As negotiators prepare to start drafting a final deal to curb Iran's atomic activities, conflicting U.S.-Iran takes on key elements mean tough work ahead of a June 30 deadline.
Though six world powers remain at the bargaining table, the real negotiating is between the two nations.
Ahead of the resumption of expert-level negotiations early next week, here's a look at key areas of U.S.-Iran agreement and disagreement, based on fact sheets made available to the media by Tehran and Washington and comments from their officials.
____
WHAT THEY AGREE ON
— Iran will halve the number of working centrifuges, machines that can spin uranium gas into levels used for nuclear arms. That will leave about 5,000 centrifuges, enriching to levels substantially below weapons-grade.
— Iran will re-engineer a nearly finished reactor to cut its production of plutonium and reduce the proliferation threat it would have posed.
— Iran will use an underground enrichment facility to reduce and repurpose its centrifuges from enriching uranium to producing isotopes and for other medical, scientific and industrial uses.
— Iran will face full restrictions on its nuclear program for a decade before phased lifting.
___
AREAS OF DISAGREEMENT
SANCTIONS
The Americans say: American and European sanctions will be "suspended" after the U.N.'s International Atomic Energy Agency verifies that Tehran has met commitments outlined in a final deal. It says the sanctions can "snap back" in case of serious Iranian violations. Ben Rhodes, President Barack Obama's foreign policy adviser, says "sanctions relief will be phased" over time, once the deal takes hold.
The Iranians say: All U.S. and European Union sanctions "will be immediately revoked" after any deal is implemented and the six powers "are committed to restraint from imposing" new sanctions. Iran's supreme leader, Ayatollah Ali Khamenei, says all sanctions should be "lifted completely, on the very first day of the deal."
___
VERIFICATION
The Americans say: Iran has committed to give the IAEA access "to investigate suspicious sites ... anywhere in the country." Iran will permanently adhere to the Additional Protocol, the nuclear agency's most potent monitoring instrument. Tehran has agreed to allow IAEA oversight through "the most up-to-date, modern monitoring activities." U.S. State Department spokeswoman Marie Harf says that includes "technological things, like cameras."
The Iranians say: Tehran will implement the Additional Protocol "on a voluntary and temporary" basis, while holding out the possibility that it could be later ratified by its parliament. Khamenei says military sites are off limits "to foreigners ... under the pretext of inspections." The IAEA already has delayed-image cameras at Iran's declared nuclear sites. Iranian Foreign Minister Mohammad Javad Zarif says Iran will not allow cameras — presumably meaning newer, real-time models — to be installed at its nuclear sites as part of any new deal.
___
RESEARCH AND DEVELOPMENT
The Americans say: Iran will be allowed only "limited" research and development of much faster and efficient centrifuges.
The Iranians say: Tehran will continue research and development of such models. Its fact sheet omits any limitation on such work.