Colombia's president calls for new approach to drugs war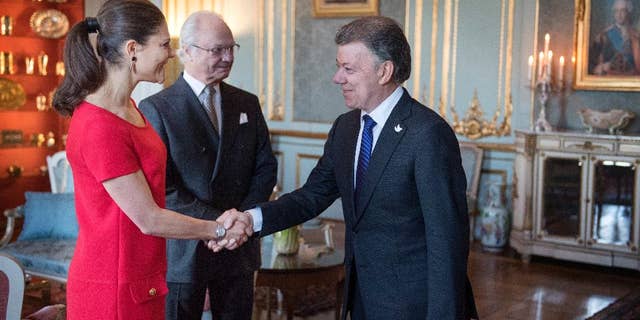 STOCKHOLM – Colombia's president has reiterated a call for a new approach in the drug war and cautioned that countries won't succeed alone.
Juan Manuel Santos said Monday that "no single country" can solve the drugs problem on its own and that "a multilateral, international approach" was needed, adding that "fortunately, we are moving in that direction."
Speaking to reporters two days after picking up this year's Nobel Peace Prize, Santos said the award had helped his country achieve the "impossible dream" of ending a civil war that had lasted more than a half-century.
The initial peace deal was narrowly rejected in a Colombian referendum before the Nobel Peace Prize announcement in October, but a revised deal between the government and rebels was approved by Colombia's Congress last week.