CoE leader 'furious' over pension fund investment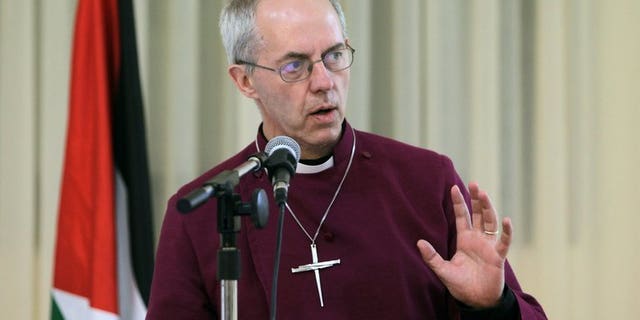 LONDON (AFP) – Church of England leader Justin Welby was said to be "furious" after finding out its pension fund invested in a high-interest loans company he had earlier promised to destroy.
Welby, who as Archbishop of Canterbury is spiritual leader of the world's 85 million Anglicans, vowed to "compete" payday lender Wonga out of existence by promoting not-for-profit credit unions.
But the Financial Times revealed that the Church had invested in US venture capitalists Accel Partners, who led Wonga fundraising in 2009.
The Church explicitly bans investing in firms involved in payday lending.
Lambeth Palace, the archbishop's headquarters, said an independent inquiry would probe how "this serious inconsistency" occurred, while Sky News reported that Welby was "furious".
He said in an interview published late on Wednesday that he had told Errol Damelin, chief executive of payday lender Wonga, of his plans to take on his company.
"I've met the head of Wonga and we had a very good conversation," the archbishop, a former oil executive, told Total Politics magazine.
"I said to him quite bluntly, 'We're not in the business of trying to legislate you out of existence, we're trying to compete you out of existence'.
"He's a businessman, he took that well."
Wonga is one of Britain's best-known providers of short-term, high-interest loans. It also operates in South Africa.
Its customers are typically charged an interest rate that, expressed in annual terms, equates to 5,853 percent.
The loans are usually for amounts well under ??1,000 and are agreed for up to six weeks.
There is a growing campaign in Britain against so-called payday lenders, and the ??2 billion industry is facing investigation by the Competition Commission after a trading watchdog found there were "deep-rooted" problems with how it operates.
Wonga insists it is a responsible lender and that it has been "instrumental" in helping to raise industry standards.
"The archbishop is clearly an exceptional individual and someone who understands the power of innovation," said Damelin, the company's chief executive and founder.
"There is mutual respect, some differing opinions and a meeting of minds on many big issues.
"On the competition point, we always welcome fresh approaches that give people a fuller set of alternatives to solve their financial challenges. I'm all for better consumer choice."
Welby, who came into office in February, spent 11 years in the oil industry, working for French company Elf Aquitaine and oil exploration group Enterprise Oil PLC, based in London.
He has launched a campaign to expand credit unions as an alternative to payday lending that he hopes will boost competition in the banking sector.
Members of credit unions pool their savings in order to provide each other with low-interest credit and other financial services. Crucially, they are not aimed at making a profit.
The government announced in April that it was investing ??38 million in credit unions to help them provide an alternative to payday lenders.
Welby launched a credit union for clergy and church staff last month.