Classes resume at Kenyan university after attack, but students stay away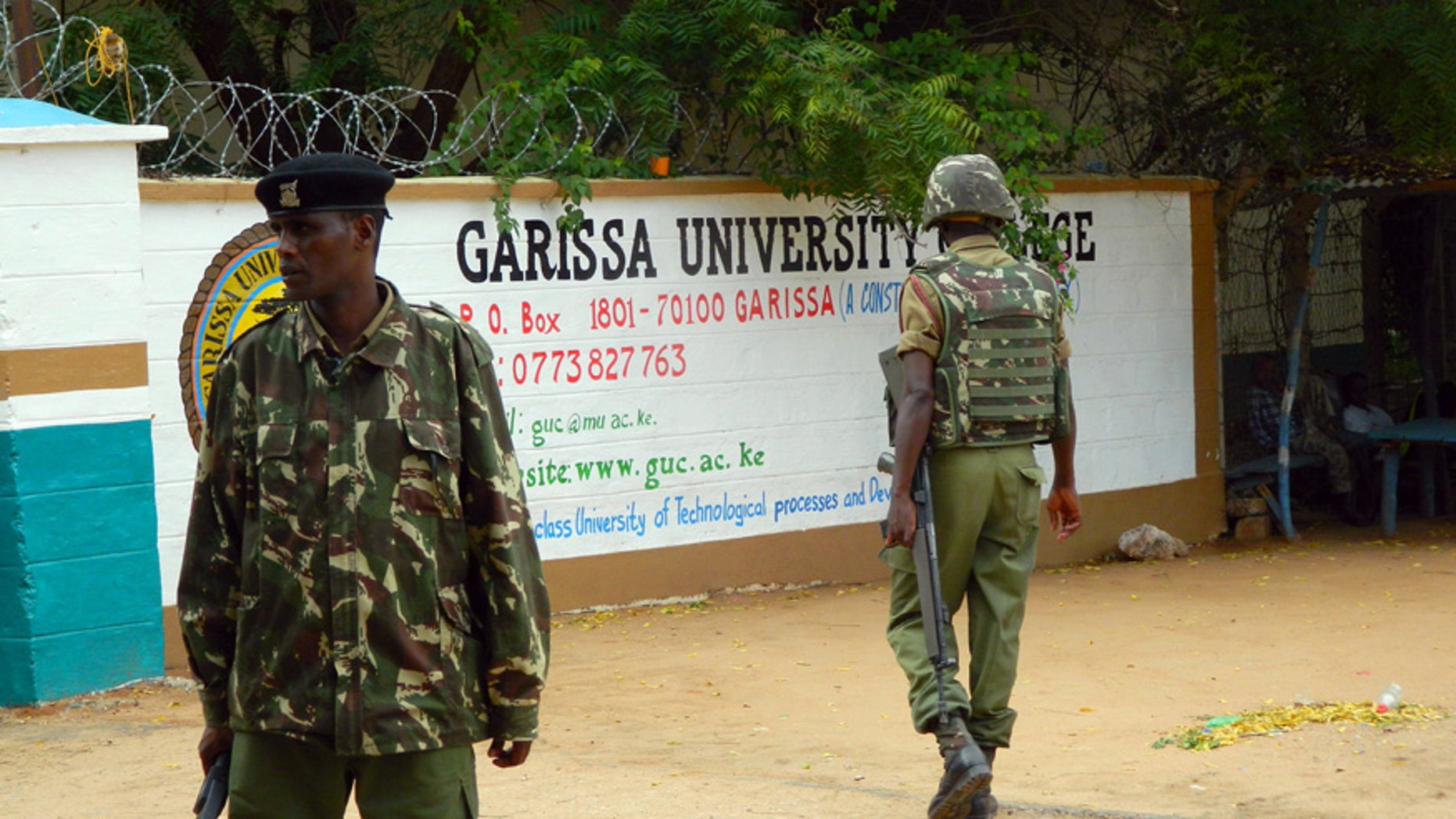 Classes are back in session at a Kenyan university where 148 students were killed in a terror attack last April, but a key component was largely missing – the students.

Only about a dozen students arrived and attended a business management class Monday amid heightened security at Garissa University College, according to the BBC.
Around 650 students are enrolled at the school in Garissa and were offered places at a sister school in Eldoret after the university was closed following the deadly al-Shabab raid.
But school administrators don't expect the students to return and are hoping to attract new students by the start of the academic year in September, the BBC reports.
One student who attended the business class Monday, Shamsi Abdi Barre, said she has "a lot of memories of lost friends [and] the environment gives me a lot of flashbacks."
Some of the other people who turned up are third-year students who live near the university and are looking to finish up their degrees, the BBC reports.
Last Monday staff began returning to the campus to prepare for the reopening.
"Just by opening the university we have won the war against al-Shabab," said Khadija Mohamed, who was a counselor at the school when it was attacked, and who was among the returning staff and faculty.
Even though there was high security, returning to the college in Garissa, a town in eastern Kenya, was difficult for Mohamed who remembers the carnage and the victims.
"Coming back to this college gives me a flashback of the killings," she told The Associated Press. "As their counselor, the students were very close to me. They were like my children. I lost many of my children."
Four gunmen with the Somali extremist group stormed the university at dawn April 2, separating the Muslim students and killing the non-Muslims.
Registrar Isaack Mohammed Noor said at least 150 of 200 staff had reported for work. Police wearing camouflage uniforms and carrying automatic weapons patrolled the grounds. A police post with 20 officers has been established at the campus to boost security.
The bloodbath at the university was the worst in the wave of extremist attacks Kenya has experienced since it sent its troops to Somalia in 2011 to fight al-Shabab, Al Qaeda's affiliate in East Africa.
Reopening the university is a victory, said Ali Bashir, a high school teacher who taught Kenyan student Abdirahim Abdullahi, believed to be the leader of the attack.
"The reopening of the university will have youth occupied in pursuing education, and this will prevent terror groups from radicalizing the youth in our region," Bashir said.
Al-Shabab in neighboring Somalia has recruited hundreds of young Kenyans, who make up the largest contingent of its foreign fighters.
The Associated Press contributed to this report.