Clashes in C.Africa 'kill up to 10'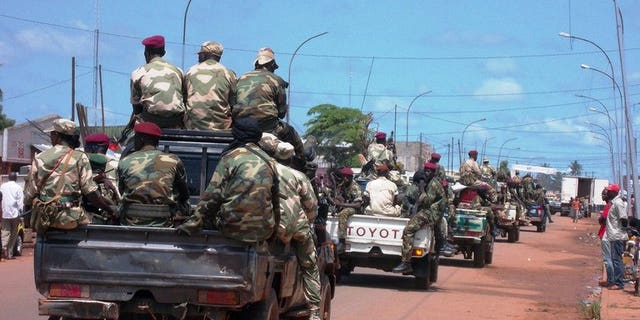 BANGUI, Central African Republic (AFP) – Up to 10 people were killed when troops of the new regime in the Central African Republic battled fighters claiming loyalty to toppled president Francois Bozize, an army source said Monday.
The fighting broke out soon after 11:00 am (10:00 GMT) on Sunday on the northern edge of the town of Bossangoa "where heavy and light arms fire was heard ... between elements of (the ruling) Seleka and men claiming allegiance to the former president," the source told AFP, asking not to be named.
Bossangoa in the northwest is the main town of the Ouham district where General Bozize was born. Former rebels of the Seleka coalition ended Bozize's 10-year rule on March 24 and their leader, Michel Djotodia, then became head of state.
The military source said that during the clashes, up to 10 people lost their lives, "including two local workers of the humanitarian NGO ACTED, killed by Seleka fighters."
"Residents fled to take refuge in the archbishop's residence and in the bush... The town market has remained closed, as well as the shops. Motorbike taxis are not in circulation," he added.
Last week, the UN High Commissioner for Refugees reported that thousands of people had been displaced and at least eight villages razed to the ground during recent violence in the north of the CAR, which has long been lawless territory outside the towns.
Since Seleka seized power, the security situation has remained chaotic in the very poor, landlocked country and President Djotodia's regime faces a major challenge in restoring order and disarming ex-combatants, despite the presence of a regional military peacekeeping force in the capital Bangui.
The CAR has been chronically unstable since independence from France in 1960, plagued by coups, rebellions, army mutinies and prolonged strikes by civilians. The unrest has prevented the exploitation of resources such as uranium, gold, diamonds and oil.