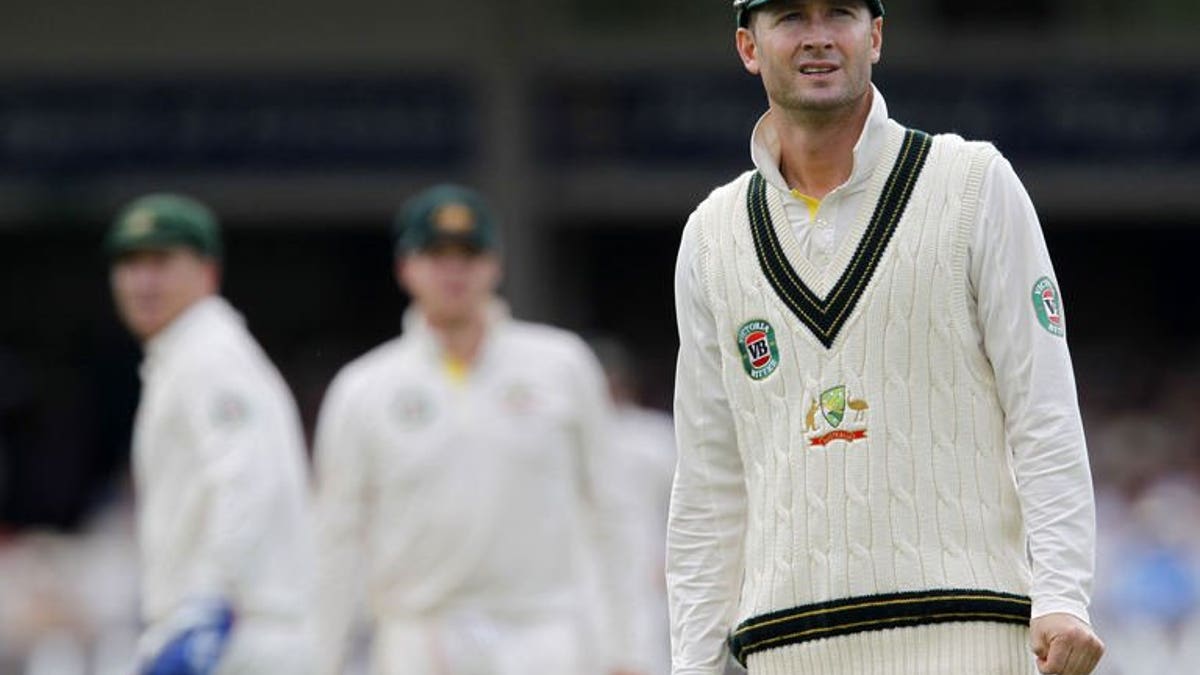 LONDON (AFP) – Michael Clarke vowed to have the last laugh on all those who mocked his suggestion Australia could still win the Ashes after a crushing defeat at Lord's left them 2-0 down in the five-match series.
Ashes-holders England thrashed their arch-rivals by 347 runs at 'the home of cricket' on Sunday, with over a day left, to strengthen their grip on the urn.
Australia's main problem, as it was in a far narrower 14-run reverse in the first Test at Trent Bridge, was a lack of runs from their specialist batsmen.
Whereas England built competitive totals in both innings at Lord's on the back of hundreds by Ian Bell (109) and man-of-the-match Joe Root (180), the highest individual Australia score was Usman Khawaja's second innings 54.
By then Australia had been left to chase a colossal 583 after being bowled out for just 128 first time around.
Clarke, Australia's best batsman and a proven world-class performer, made 51 on Sunday but that only took his average for the series to 25.50, with none of the tourists having made an individual hundred in the first two Tests.
The last time any side came from 2-0 down to win the Ashes was in 1936/37 when Australia, inspired by Don Bradman, cricket's greatest Test batsman, eventually won 3-2 on home soil.
However, despite the weight of history against him, Clarke said: "I'm still confident we can win this series.
"I know a lot of the crowd laughed when I said that (at the presentation ceremony), and rightly so with the position we are in right now, but all of our top order have made a fifty and we need someone who can go on and make a big hundred -- as England have done.
"We need to perform better to win this third Test but we have time to prepare," added Clarke, with Australia set to play a three-day tour match against Sussex starting Friday before facing England again at Old Trafford, where the next Ashes encounter gets underway on August 1.
"Our performance with the bat was unacceptable. The wicket was very good for batting. We had a great opportunity but we let ourselves down," Clarke added.
"We have plenty of experience in our top seven, but our shot selection was poor and we didn't have the discipline that England had.
"They were willing to bat for long periods and graft through the tough periods, but we certainly weren't in that first innings."
This latest defeat meant Australia, following a 4-0 rout in India earlier this year, had lost six Tests in a row for the first time since 1984.
That run of losses prompted Kim Hughes to deliver a tearful resignation speech as he quit the Australia captaincy.
Asked about a comparison to Hughes's situation, Clarke, to laughter from the assembled reporters, replied: "Presume nothing.
"You do take it to heart more as captain because you care about your team-mates but I felt the same when I was just a player.
"It used to hurt me just as much. The reason you play any sport I guess is to try and win -- that's the way I have been brought up.
"But half of my problem I guess is that I walked into such a great Australian team that won as a habit and that was something I became accustomed to and used to. I don't want that to change.
"At the moment we are not performing as well as I would like. We have to get better. We have so much support, with so many Australians around, a lot of the English have been very supportive towards us, and people back home are cheering us on.
"We are letting everyone down at the moment with the way we are batting," added the 32-year-old Clarke, who acknowledged his attack risked injury unless the top order spent more time in the middle.
"Our bowlers are fighting hard, we are making them bowl every single day because we are not putting enough runs on the board."