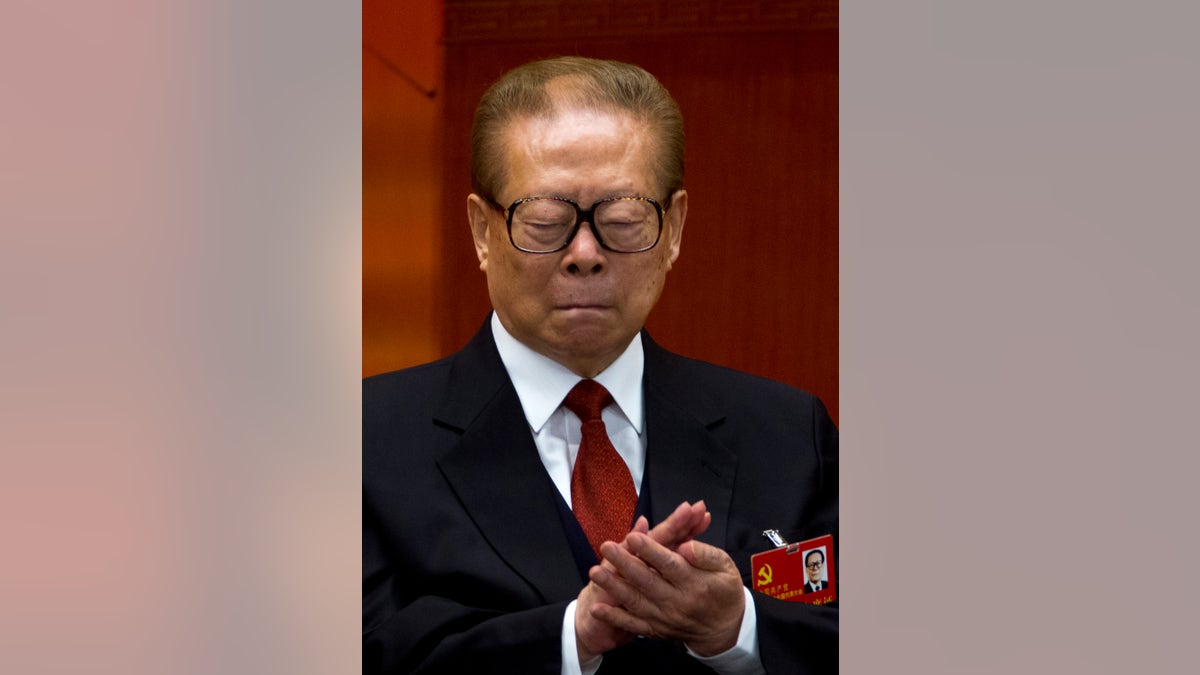 BEIJING – Influential Chinese ex-President Jiang Zemin has been moved down the top leadership's pecking order — at least in public — as the ruling Communist Party prepares for the final stages of a generational handover in power.
The official Xinhua News Agency said Wednesday in a brief dispatch that Jiang asked party leaders to group him with other retired elders when announced and seated at major formal events. Jiang used to be second to current President Hu Jintao in the protocol at major events, reflecting his status as former president.
Xinhua praised Jiang's request as "reflecting the noble character and sterling integrity and open-mindedness of a Communist."
The announcement comes as the party lays the groundwork for the final phase of its leadership transition this spring, when Vice President Xi Jinping will become president and other top Communist officials will be appointed to government positions. Xi succeeded Hu as party leader in November at a pivotal congress, in a transition that had been planned years earlier.
Analysts said Jiang's move has symbolic significance, but it remained unclear whether he would relinquish his behind-the-scenes influence on party affairs.
"In terms of the symbolism, this is a step forward to mitigate and to guard against the so-called geriatric politics: the old men interfering, retired old cadres who have no position still having a big say in party affairs," said Willy Lam, a China politics expert at the Chinese University of Hong Kong.
"But on a practical level, it's difficult to prevent Jiang Zemin from still trying to do whatever he can to interfere in party affairs," Lam said. "In the Chinese context, tradition dies hard and you have a long record of retired party elders still interfering in party politics."
It is unclear if Hu will fill the seat in the public hierarchy after Jiang vacates it. Hu has indicated a desire to fully retire from politics and urged greater transparency within party affairs based on equality and "democratic principle."
China's political transitions are still in their infancy, since the days of strongman leaders such as Deng Xiaoping.
China's party elders, many among them veteran revolutionaries, enjoy tremendous clout even though they typically have no official posts any more. They continue to make their preferences known and work behind the scenes to promote their proteges and allies to top posts. That burnishes the credentials of retired leaders, ensures them some say in affairs of state, and — perhaps most importantly — protects them and their families from being investigated over corruption or other improprieties committed while in office.
Foremost among the former leaders is Jiang, who oversaw a four-fold expansion of the economy, the reversion of Hong Kong from British to Chinese rule, and the country's entry into the World Trade Organization. Jiang stepped down as party leader in 2002, although he led the commission that controls the armed forces for another two years.
Unlike Jiang, Hu stepped down from his post as chairman of the military commission at the same time as he handed over the party leadership to Xi, and his decision won plaudits from the military and praise from Xi. Hu's example could have laid pressure on Jiang to move aside.
When Hu retired as party general secretary and head of the military commission, "Xi Jinping very heavily praised him," University of Chicago political scientist Dali Yang said. "But it also read almost like kind of a rebuke of Jiang because many people saw that if Hu is being heavily praised for retiring cleanly, then what about Jiang? That really put Jiang on the defensive."