China suspends ousted politician Bo from top posts, wife named suspect in murder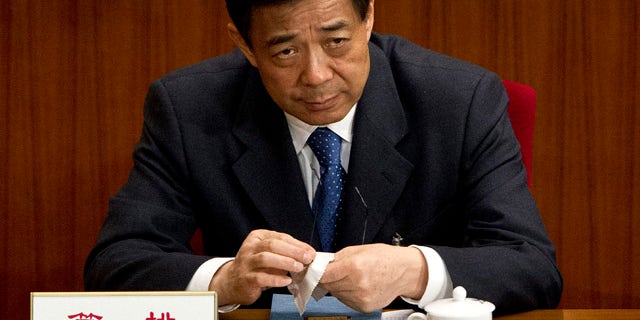 BEIJING – China's ruling Communist Party suspended a high-profile politician from his remaining leadership positions Tuesday and named his wife as a suspect in the murder of a British businessman.
Announcements carried by state media said Bo Xilai has been suspended from the party's 25-member Politburo on suspicion of involvement in "serious discipline violations."
Bo's wife Gu Kailai is being investigated for intentional homicide of a British citizen, Neil Heywood, who died in November in Chongqing, the Xinhua News Agency said. Gu and an orderly at Bo's home have been turned over to judicial authorities, it said.
A flamboyant and telegenic politician with a populist flair, Bo is the most senior Chinese leader to be suspended from the Politburo since Shanghai's party chief was removed for corruption six years ago.
The announcements provide details on what has been a lurid, divisive and embarrassing scandal for the leadership, bringing political infighting out of the usually closed confines of elite party politics and into public view.
While the brief announcement about Bo did not elaborate on what rules he is suspected of violated, the charge is broad enough to cover everything from corruption to the mishandling of internal party affairs.
Bo was the party chief of the inland mega-city of Chongqing and until recently considered a contender for the highest echelons of the leadership when new members are installed later this year.
He gained notoriety for a crackdown on organized crime and a campaign to revive Mao Zedong-era communist songs and stories. The excesses of the campaigns, however, also earned Bo critics who accused him of violating civil liberties in busting gangs of dredging up memories of the chaotic Cultural Revolution associated with Mao's radical politics.
Bo's career began publicly unraveling in February after a once trusted aide left Chongqing and fled temporarily to the U.S. consulate in another city, apparently to seek asylum and in violation of party rules. A month later, Bo was dismissed from his Chongqing post without explanation.
The Xinhua report said that while in the U.S. Consulate, the aide, Wang Lijun, alleged that the British citizen, Neil Heywood, who died last November had been murdered.