China reportedly building runway on artificial island in disputed waters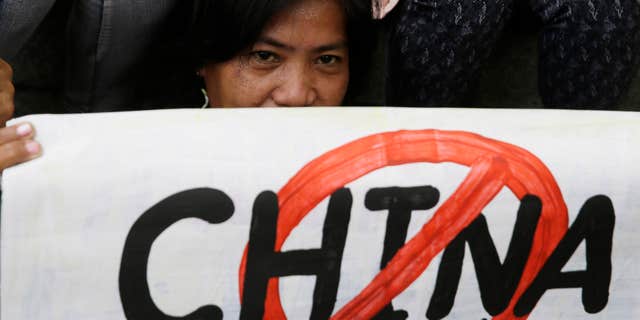 China reportedly is building an airstrip on an artificially created island in a disputed part of the South China Sea, a move the U.S. has warned could raise tensions in the disputed area.
Satellite images of Fiery Cross Reef taken March 23 show a runway more than 1,000 feet long as well as paved sections of apron, according to defense group IHS Jane's. The U.S. has said China is carrying out land reclamation projects in the area.
Jane's said the island is big enough for a 9,500-foot runway that would be able to accommodate air force planes. China also operates a runway on Woody Island, to the west of Fiery Cross Reef, which is also claimed by Vietnam, the Philippines and Taiwan, and another island it is creating could also be big enough to accommodate a runway.
The airfield construction was mentioned by the commander of U.S. forces in the Pacific at a congressional hearing Wednesday. Adam. Samuel Locklear said the reclamation work would allow China to exert more influence in the contested area and possibly deploy military assets such as long-range radar and advance missile systems.
China claims most of the South China Sea and its island chains. Malaysia and Brunei also claim waters and islands in the area.
At a Friday briefing, Beijing Foreign Ministry spokesman Hong Lei defended the island reclamation work, which China says is largely to improve living conditions for people in the area and help with weather forecasting and search and rescue work.
Such work is "lawful, justifiable and reasonable. It does not target or impact on any other country and we hope that relevant parties can have a correct understanding on that," Hong said.
Earlier this month, U.S. Pacific Fleet Commander Admiral Harry Harris raised concerns that China was building a "great wall of sand" in contested waters in the South China Sea.
Harris said the U.S. continues to urge all claimants to conform to the 2002 China-ASEAN Declaration of Conduct, in which the parties committed to "exercise self-restraint in the conduct of activities that would complicate or escalate disputes and affect peace and stability.
China has reportedly said that their actions are "totally justified" as it has "sovereignty" over the area.
The Associated Press contributed to this report.