China president Hu Jintao clears way for Xi Jinping to take helm of Communist Party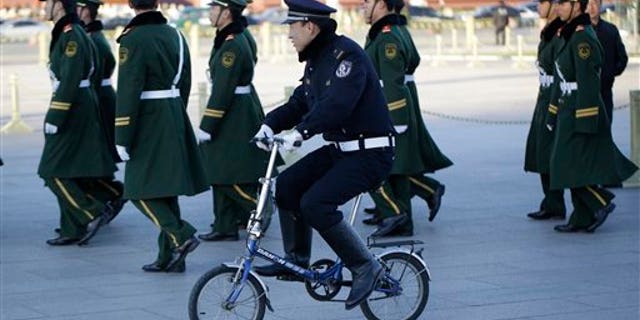 President Hu Jintao has stepped aside as Communist Party leader to clear the way for Vice President Xi Jinping to take the helm in China, delegates to the party's national congress said Wednesday.
Hu was not re-elected a member of the party's Central Committee on the final day of the gathering, showing that he's no longer in the leadership, said two delegates, speaking on condition of anonymity because the official list of members had not yet been released.
Xi was re-elected along with other leading candidates for seats on the party's all-powerful Politburo Standing Committee.
Designated as successor five years ago, Xi will take over as party general secretary from Hu on Thursday and as president next spring, in China's second orderly transfer of power since the 1949 communist revolution. Li Keqiang also is due to take over from Wen Jiabao as premier.
The new leaders will face slowing growth, rising unrest among increasing assertive citizens and delicate relations with neighboring countries.
The party's 2,200-plus delegates who gathered at Beijing's Great Hall of the People for the secretive, weeklong meeting also rubber-stamped the report Hu delivered last week committing the party to continuing a pro-economic growth agenda while retaining firm political control. Hu urged stronger measures to rein in corruption and make the government more responsive to public demands, but offered little in the way of specifics.
The next lineup of China's most powerful body, the Politburo Standing Committee, will be announced on Thursday. Though congress and Central Committee delegates have some influence over leadership decisions, most of the lineup is decided among a core group of the most powerful party members and elders.
Wang Qishan, a frontrunner along with Xi and Li for the Standing Committee, was named to the party's disciplinary body in a sign he would likely be named to the party's top body.
The congress votes are "fully democratic" but "there is a degree of inevitability," actor and party delegate Song Guofeng of Liaoning province said as entered the hall Wednesday for the final session of the congress. "We need to have continuity in leadership to carry on. They are already in the leadership core. The stability of the party and of the county is important."
China's leadership transitions are always occasions for fractious backroom bargaining, but this one has been further complicated by scandals that have fed public cynicism that their leaders are more concerned with power and wealth than government.
In recent months, Bo Xilai, a senior politician seen as a rising star, was purged after his aide exposed that his wife murdered a British businessman. An ally of Hu's was sidelined after his son died in the crash of a Ferrari he shouldn't have been able to afford. And foreign media recently reported that relatives of Xi and outgoing Premier Wen Jiabao had amassed vast wealth. The scandals have weakened Hu, on whose watch they occurred.
Hu will remain president until March.
It was unclear whether he would retain his position as chairman of the Central Military Commission -- or when the makeup of the new panel would be announced. Many observers have maintained that Hu would seek an additional two years in that post, to maintain leverage over the next leadership as previous retiring leaders have done, including former President Jiang Zemin, who is still believed to wield enormous influence from behind the scenes.