China police call Tiananmen Square incident terrorist attack, detain 5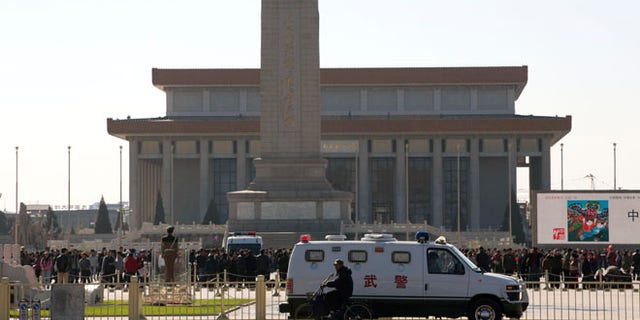 China police said five people have been arrested in connection with this week's suicide car crash in China's capital, calling it a terrorist attack and identifying the attackers as members of a Muslim minority.
Police said the five suspects were detained the same day as the Monday noon attack at the Forbidden City gate across from Tiananmen Square, in the culturally and politically sensitive section of Beijing where China's Communist Party leaders live and work.
"Police have identified Monday's incident at Tiananmen Square as a violent terrorist attack which was carefully planned, organized and premeditated," police said, according to Reuters.
A statement on the Beijing police microblog said the perpetrators also had been identified as a man with an ethnic Uighur name, his wife and his mother. The five suspects arrested on suspicion of conspiring in the attack also were identified with typically Uighur names.
"As a common enemy of mankind, terrorism has no future, and is doomed to failure," the microblog said. "We firmly believe that the Communist Party and government have the ability and the power to resolutely beat back and defeat all illegal terrorist activities."
An attack in one of the eastern population centers is "something that the Chinese authorities have been worried about for a long time," said University of Michigan expert Philip Potter.
"Once this threshold has been crossed, it is a difficult thing to constrain," Potter said, predicting tighter surveillance and scrutiny of Uighurs in eastern cities.
All three attackers died when their vehicle exploded beneath the portrait of Mao Zedong hanging from Tiananmen Gate. Two tourists, including a Filipino woman, were killed by the vehicle as it sped down a crowded sidewalk, and 38 people were injured, including three Filipino citizens and a Japanese man.
Knives, iron rods, gasoline and a flag imprinted with religious slogans were found in the vehicle, police said.
Uighurs are Muslim Turks native to the restive northwestern region of Xinjiang where extremists opposed to Chinese rule have been battling security forces for years.
The statement said the five detained had helped plan and execute the attack, and were caught 10 hours after it was carried out. It said they had been on the run and were tracked down with the help of police in Xinjiang and elsewhere. It didn't say where they were captured, but said police had found jihadi flags and long knives inside their temporary lodgings.
"The initial understanding of the police is that the Oct. 28 incident is a case of a violent terrorist attack that was carefully planned, organized and plotted," the statement said.
The attack appears to mark a new boldness on the part of militants inspired by radical Islam and follows a particularly bloody summer of clashes in Xinjiang, including an attack on a police station, that have left at least 56 people dead this year. The government typically calls the incidents terrorist attacks.
China has up to now been largely successful at limiting both the volume and effectiveness of domestic terrorist attacks, while containing them mainly to Xinjiang. However, the Chinese government had warned that radicals might be planning attacks outside of Xinjiang.
Xinjiang borders Afghanistan and unstable Central Asian states with militant Islamic groups, and Uighurs are believed to be among militants sheltering in Pakistan's lawless northwestern region.
According to Reuters, authorities moved to tighten security in the region.
China says much of the violence is orchestrated by Uighur activists based in the West or in Pakistan and other neighboring countries, but has provided little evidence publicly. The U.S. initially placed one group, the East Turkistan Islamic Movement, on a terrorist watch list following the Sept. 11, 2001, attacks, but later quietly removed it amid doubts that it existed in any organized manner.
Uighur extremism is generally seen as fueled by heavy-handed Chinese rule in Xinjiang and discrimination against them by China's ethnic Han majority who make up more than 91 percent of the country's population. Many Uighurs say they face routine discrimination, irksome restrictions on their culture and Muslim religion, and economic disenfranchisement that has left them largely poor even as China's economy booms.
Uighurs say they've seen little benefit from the exploitation of Xinjiang's natural resources while good jobs tend to flow to ethnic Han migrants. The 9 million Uighurs now make up about 43 percent of the population in a region more than twice the size of Texas where they used to dominate.
They frequently say they're made to feel like second-class citizens, facing difficulties obtaining passports or even traveling outside Xinjiang. Hotels and airlines are reported to have unofficial bans on catering to Uighurs, and many employers refuse to hire them.
"Hotels won't take us and you can't rent if your ID shows a Xinjiang residence. People look at us with a lot of prejudice," said Yusuf Mahmati, 33, a Uighur fur trader plying his wares on a busy Beijing sidewalk across from a crafts and curios market.
Uighurs in Beijing say police have stepped up identity checks and other forms of scrutiny since Monday's attack, and the overseas advocacy group World Uyghur Congress on Tuesday urged caution and expressed concerns that Beijing could use the incident to demonize Uighurs as a group. A Sweden-based spokesman for the group said 93 Uighurs have been detained without charge in Beijing in security sweeps following Monday's attack.
Beijing-based Uighur economist Ilham Tohti urged the government to make public its findings if it indeed has evidence that Uighurs were involved in a terrorist attack.
The Associated Press contributed to this report.