China, Japan leaders hold meeting at Asia-Pacific summit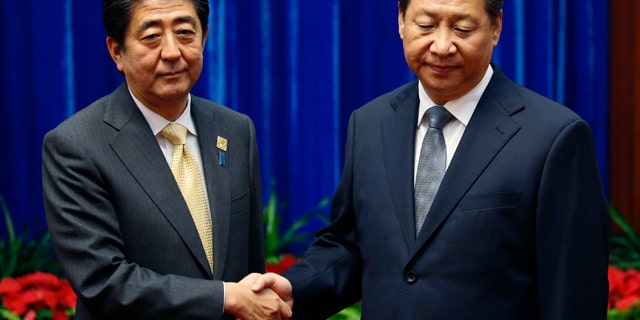 BEIJING – Chinese President Xi Jinping and Japanese Prime Minister Shinzo Abe held an ice-breaking meeting Monday on the sidelines of an Asia-Pacific conference in Beijing, following more than two years of deep tensions over an island dispute.
The spat between China and Japan over uninhabited East China Sea islands raised concerns of a military confrontation between Asia's two largest economics. China also has been angry over what it sees as effort by Japan to play down its brutal 20th century invasion and occupation of China.
The meeting between Xi and Abe ahead of Tuesday's summit of the 21-member Asia-Pacific Economic Cooperation forum gives rise to hopes the countries can dial down the tensions.
Abe told reporters after the talks that the countries made a "first step" toward reconciliation.
"I believe that not only our Asian neighbors but many other countries have long hoped that Japan and China hold talks," Abe said. "We finally lived up to their expectations and made a first step to improve our ties."
Earlier in Beijing's Great Hall of the People, the two men shook hands in front of cameras in a red-carpeted hallway before heading into a meeting room. Abe could be seen briefly saying something to Xi, who gave no response and looked toward the cameras for the remainder of the handshake.
China's state Xinhua News Agency said that Xi urged Japan to "do more things that help enhance the mutual trust between Japan and its neighboring countries, and play a constructive role in safeguarding the region's peace and stability."
The two sides issued a joint statement on Friday agreeing to gradually resume political, diplomatic and security dialogues. In that statement, Japan said it acknowledged differing views over the status of the islands, called Diaoyu in Chinese and Senkaku in Japan. China has long demanded that Tokyo acknowledge that the islands' sovereignty is in dispute, something Japan has refused to do.
China and Japan have had poor relations for decades, rooted in Japan's fears of China's economic and political rise and Beijing's sense of victimhood. Japan's nationalization of the islands in September 2012 infuriated Beijing, raising regional security fears as Chinese patrol ships repeatedly penetrated the surrounding waters to confront Japanese coast guard vessels.
Tensions remained strained after the late 2012 election of Abe, a conservative nationalist who infuriated China when in 2013 he visited a Tokyo Shinto shrine honoring Japan's war dead, including executed war criminals -- an act Beijing says shows Abe's insensitivity to China's suffering during the war. His government's reinterpretation of Japan's pacifist constitution to allow a greater role for its military has also raised alarms in Beijing.