China fights masculinity 'crisis' with new textbook for boys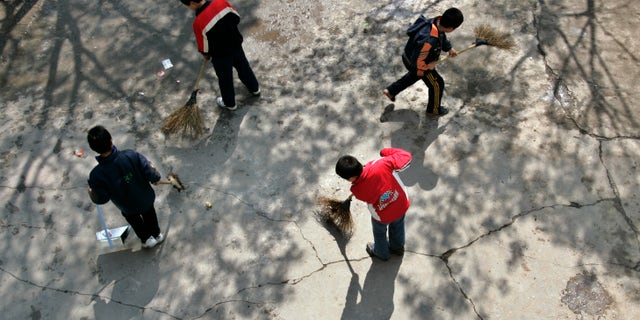 NEWYou can now listen to Fox News articles!
China is apparently concerned that its boys are becoming too effeminate. The country's solution: a masculinity-promoting school textbook called Little Men, aimed for use in grades 4 and 5.
The illustrated book talks about fathers and sons, and it encourages boys to stress their masculine side, with money management and other ostensibly guy-geared topics thrown in.
'ONE CHINA PRINCIPLE' NOT NEGOTIABLE, CHINA TELLS TRUMP
NBC News reports the concern is widespread and that citizens blame the "gender crisis" on everything from too much homework (and too little physical activity), to to being spoiled rotten by parents allowed just one child. "Girls are becoming more like boys while the boys are becoming more like girls, introvert[ed] and shy," one parent complains.
An English-language newspaper in China blamed the perceived problem on "effeminate" actors and pop stars in Japanese and Korean culture.
The new six-chapter textbook was printed in December by Shanghai Educational Publishing House and has already been given a test drive in some schools. The idea is that boys will be taught from the book during class, while girls won't take the course, reports the South China Morning Post.
Anthropologist Tiantian Zheng tells NBC the concern about masculinity is seen as a priority among government officials, and she suggests that all-male middle schools could result.