China on Thursday ordered the closing of all North Korean businesses in the country, cutting revenue to the Hermit Kingdom from its main trading partner as tensions build globally over Kim Jong Un's missile and nuke programs.
Any North Korean businesses and ventures with Chinese partners are required to shut down by early January, 120 days after the official order. The agreement follows the sanctions against North Korea that the U.N. Security Council approved on Sept. 11. North Korean companies operate restaurants and other ventures, and laborers from the country work in Chinese factories.
The move by China is a blow to North Korea, which has relied on China for years as its main trading partner, and buffer against outside criticism. China, a permanent member on the Security Council, has been careful not to overstep in punishing North Korea, drawing condemnation from President Trump who is urging more action against the rogue nation in a bid to head off the nuclear crisis. China agreed to the Sept. 11 sanctions after the U.S. agreed to soften its stance calling for a complete ban of oil exports to North Korea.
FOX NEWS POLL: VOTERS SAY TRUMP TALK NOT HELPFUL ON IRAN, NORTH KOREA
Despite initially opposing the sanctions, China has followed through with the guidelines. Last week, Chinese banks were reportedly told not to continue business, including issuing loans, to new and existing North Korean customers, Reuters reported. Beijing also announced last Saturday it will cut off gas and limit shipments of refined petroleum products by Jan. 1. China provides most of North Korea's energy supplies. There was no mention of crude oil imports, which was capped to a limit by the sanctions.
China's ban on imports of coal, iron and lead ore, and seafood to North Korea were implemented in early September. The U.S. State Department praised Beijing for taking "tremendous steps" cut off the rogue regime.
But despite the moves, China was criticized for its recent imports of coal to North Korea. The country's Ministry of Commerce spokesman, Gao Feng, defended the imports, saying it fell under the sanctions' guidelines because it fell within the "grace period" before the ban took effect.
The U.S. also added eight North Korean banks and 26 individuals operating in four countries to its sanctions blacklist.
NORTH KOREA HID ANTI-US PROPAGANDA IN CHILDREN'S CARTOONS FOR DECADES
North Korea said earlier this week the U.S. was "declaring war" due to Trump's recent rhetoric. U.S. Press Secretary Sarah Sanders insisted America has "not declared war," calling the charge "absurd."
But even as the world tries to contain the burgeoning crisis, North Korea claimed nearly 5 million people have joined its military to prepare for a possible war against the U.S, Yonhap News Agency reported citing the North's Rodong Sinmun newspaper. Among the supposed new recruits and re-enlistments were 1.2 million women who volunteered to join the Army to counter U.S. forces.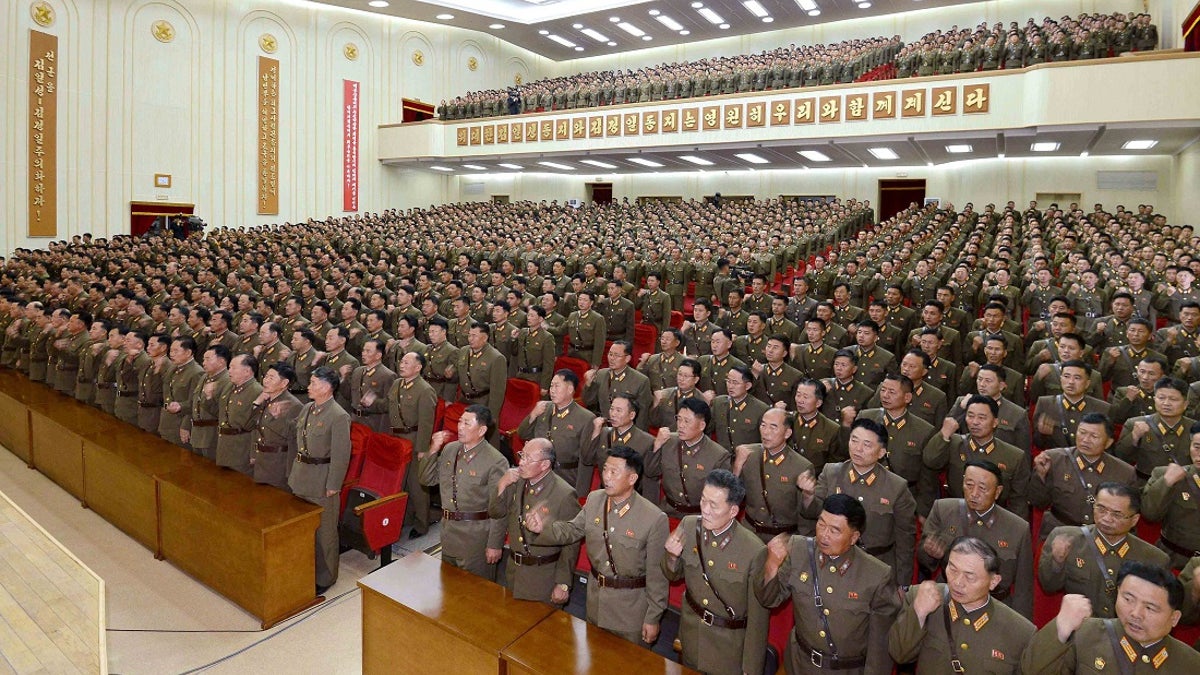 The Associated Press contributed to this report.