Chile Perceived as Less Corrupt Than US, Transparency International Says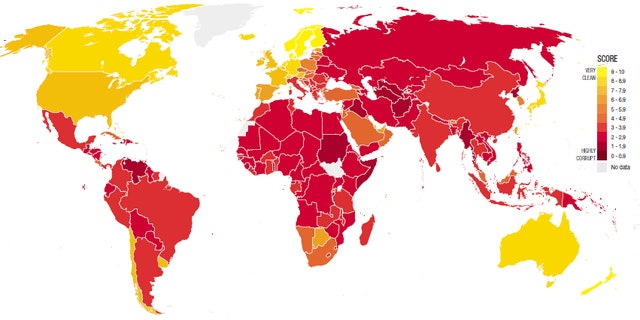 Despite months of protests over educational reforms and strikes at the world's largest copper mine, a new NGO report found that Chile is less corrupt than the United States.
Chile ranked 22 on Transparency International's 2011 Corruption Perceptions Index, while the U.S. is ranked 24 with Uruguay rounding off the top 25.
"The interesting thing here is that Chile is a country that compared to the rest of Latin America has strong and relatively autonomous institutions," said Alejandro Salas, Transparency International's regional director for the Americas.
Chile's high rank comes amidst student protests over education reform that have embroiled the country since May and greatly hindered both President Sebastián Piñera's popularity and influence within the government. In the middle of the protests Piñera reshuffled his cabinet and removed education minister Joaquín Lavín, but he has so far rejected students' demands for the public ownership of educational establishments.
Adding to the unrest over education, workers at Chile's state-owned Codelco copper mine went on strike in July – the first time in nearly 20 years. The miners were angry at restructuring plans by the Piñera administration that they believed would lead to cuts in jobs and benefits as well as privatize the mine.
On the opposite side of the spectrum is Venezuela, which was ranked 172 out of the 182 countries on Transparency International's list. The only Latin American nation to be ranked worse was Haiti, which continues to be plagued by problems from the 2009 earthquake and the ensuing Cholera epidemic.
The low ranking for Venezuela is a blow for Venezuelan President Hugo Chávez, who came to power in 1999 amidst the promise of widespread social and economic reforms. "It is not so much the position of Venezuela's ranking as it is that a country that offers so much opportunity is listed so close to the bottom," Salas said.
Chávez, who announced earlier this year that he is battling an as-yet-to-be-named form of cancer, has seen his popularity ratings drop in the lead-up to next year's presidential election. The recession, soaring crime rates and inflation have pushed the socialist leader's popularity to a seven-year low, according to a poll released on August.
Cuba, ranked 61, moved up from 69 in 2010, but has generally remained stable in terms of its movement within the index, Salas said. "The interesting thing about Cuba is that you have strong institutions, not democratic, but strong institutions," Salas said.
He added that Castro's recent reforms, such as allowing Cubans to buy and sell their homes and cars, has sent a message to the rest of the world that reform has happened.
Overall, Latin America has improved in the rankings with the region in the long term moving away from the bottom end and toward the middle. Salas said that Colombia and Brazil had made significant strides over the last ten years, while Peru continued its up-and-down movement on the list.
Transparency International's yearly Corruption Perceptions Index ranks nations on how corrupt their public sector is perceived to be. The combination index draws on a number of different corruption-related data sources and includes only countries that have a minimum of three sources.
The 2011 list added four countries that had previously not been reported due to lack of sources, which included North Korea and the Bahamas.
"2011 saw the movement for great transparency take on irresistible momentum, as citizens around the world demand accountability from their governments," said Cobus de Swardt, the managing director of Transparency International, according to a press release. "High-scoring countries show that over time efforts to improve transparency can, if sustained, be successful and benefit their people."
Follow Andrew O'Reilly on Twitter: @aoreilly84
Follow us on twitter.com/foxnewslatino
Like us at facebook.com/foxnewslatino