Chicago TV station mixes up P.F. Chang's and Pyeongchang in Winter Olympics graphic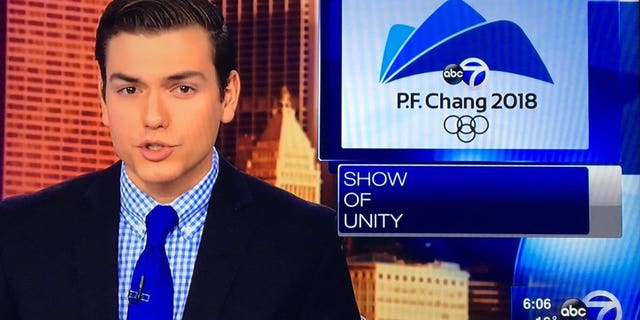 Pyeongchang is a city in South Korea where the 2018 Winter Olympics is being held, and P.F. Chang's is a popular Asian-inspired restaurant chain — but somehow a local news station in Chicago got the two names confused.
WLS-Ch. 7, an ABC affiliate in Chicago, had viewers scratching their heads Saturday when it showed a graphic that said "P.F. Chang 2018" with an incorrect Olympics logo while talking about the Winter Games in South Korea. Weekend anchor Mark Rivera appeared on-air reading a series of news stories with the graphic in the right corner, the Chicago Tribune reported.
Jayme Nicholas, a spokeswoman for the news station, apologized for the image and told the Chicago Tribune the graphic was merely a "mix-up." The "P.F. Chang 2018" graphic was supposed to be used for a "satirical piece" that sports anchor Mark Giangreco created Friday.
The graphic, however, was then accidentally used for the real news on the Pyeongchang Winter Olympics, the station said.
The "P.F. Chang 2018" graphic brought an onslaught of mockery on social media, with many first questioning if it was real.
"P.F. Chang's.. Bringing the world together in 2018," one user wrote.
Another person tweeted, "I may not be an athlete competing in Pyongyang, but I definitely compete in P.F. Chang's"
"Please tell me this didn't really happen," one user tweeted, to which someone else replied: "@PFChangs if team USA gets over 35 medals, can you give away some free food?"
The restaurant chain, which has more than 210 locations in the U.S., eventually joined in on the fun, tweeting: "Contrary to this broadcast, we're not hosting the games."
The chain also replied "Looks like someone was hungry" when another person asked them about their input on the image.