Chemist testifies VX found on 2 women accused of killing Kim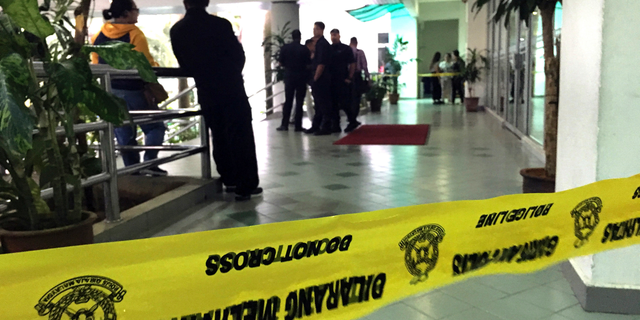 SHAH ALAM, Malaysia – Prosecutors presented the first evidence Thursday linking the banned VX nerve agent to two women accused of killing the estranged half brother of North Korea's leader at a busy Kuala Lumpur airport terminal.
In the trial at Malaysia's High Court, Siti Aisyah of Indonesia and Doan Thi Huong of Vietnam have pleaded not guilty in the Feb. 13 murder of Kim Jong Nam.
They are accused of smearing VX on his face, but the defense says the women thought they were playing a harmless prank for a hidden-camera TV show and had been hoodwinked by men suspected of being North Korean agents.
North Korean leader Kim Jong Un is believed to have considered his older sibling a potential rival for power.
DR. RAJA SUBRAMANIAM, head of the Center of Chemical Weapon Analysis lab at the Chemical Department
Raja, the eighth witness and the only one to testify Thursday, said he found traces of VX on the two suspects.
He said lab tests detected VX in its pure form and VX precursors on Huong's white jumper, and a degraded product of VX on her fingernails. Huong was seen on airport surveillance videos wearing a white jumper emblazoned with the big black letters "LOL," the acronym for "laughing out loud."
The chemist said laboratory tests also detected VX acid, a degraded product of the nerve agent, on Aisyah's sleeveless T-shirt.
He said VX will degrade once it is exposed to the atmosphere, and even faster when it is in contact with water.
"The presence of VX precursors and VX degradation products confirms the presence of VX itself," he said.
Raja also confirmed that he found VX on Kim's face, eyes, clothing and in his blood and urine.
Raja, who is the only Malaysian with a doctorate in chemical weapons analysis, said VX was a "strategic" choice of poison because it doesn't evaporate quickly and a person could be targeted without affecting the surroundings. He described VX as the "deadliest nerve agent created" and said literature showed that 10 milligrams, just a small drop, could be fatal.
Rubbing VX on a person's eye would be the fastest way to kill because the eyes have no barrier like the skin and have lots of blood vessels, he said. The palm is the least sensitive area and VX can be removed from the palm by washing it in running water and physically scrubbing it within 15 minutes of exposure, he said.
He agreed with the prosecutors' assertion that Kim didn't inhale VX because no nerve agent was detected on a nasal swab.
Raja said VX is oily and difficult to detect because it is colorless and odorless, and can be easily transported in a water bottle. He said Malaysia's airports do not have the special equipment needed to detect VX.
The trial is to resume Monday, with the judge, lawyers and the two suspects visiting Raja's laboratory to see VX-tainted samples from the two women before they are formally submitted as evidence. This came after Raja told the court it would be safer to view the samples in the lab because the VX may still be active.