Chavez Pitches Softball Amid Rumors of Declining Health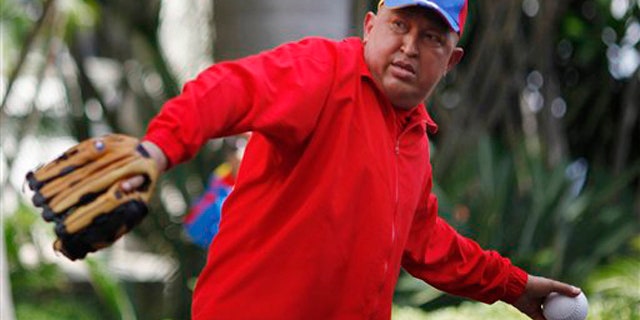 Venezuelan President Hugo Chavez tossed a softball overhand with gusto Thursday, said his latest medical checks have been stellar and ridiculed rumors that his health might have taken a turn for the worse.
Chavez said he is bouncing back vigorously from chemotherapy and gaining weight more than three months after he had surgery to remove a cancerous tumor from his pelvic region. He declined to say what type of cancer he was diagnosed with.
"What do you want me to tell you?" Chavez said when asked about the cancer at a news conference. "I'm not going to gratify you ... A malignant tumor. What else do you want? They extracted it."
Chavez motioned to the area where he said the tumor was removed, indicating a vertical incision on his abdomen crossing his waist line. The president has said the tumor was the size of a baseball, and he held up a baseball as he described the operation.
"Here I am. I'm my own response. And the life I lead from now on, with the grace of God, will be the response, the new Chavez," said the president, who is running for re-election in 2012.
He reiterated that all of his medical checks have shown no sign of any resurgence of the cancer.
"The latest tests, all of them, have shown very positive results," he said.
Chavez dismissed a report in a U.S. newspaper, El Nuevo Herald of Miami, that cited anonymous sources saying that he had been hospitalized and that his condition might be deteriorating. He read aloud portions of the report to journalists outside the doors of the presidential palace.
"They've got me on dialysis," Chavez said, rejecting that account.
Chavez had been largely out of sight since returning from Cuba last week after a fourth round of chemotherapy that he has said would be his last.
He said in a telephone call broadcast on television earlier Thursday that he is taking steroids and other medicines as he recovers from the chemotherapy.
He said he is working at "half throttle" while undergoing physical and medical therapy.
"I'm going to completely get out of this soon," Chavez said.
The 57-year-old leader said his body has coped well with chemotherapy and assured Venezuelans he will keep them informed.
"I would be the first ... to communicate any difficulty in the process. None beyond the normal has come up," Chavez said.
Chavez has provided regular updates on his condition since he announced in a prerecorded video aired June 30 that he had undergone surgery for cancer. He said later that the surgery to remove the tumor was performed June 20.
The president's critics have complained that he has kept secret some key details about his illness.
Chavez said he has provided ample information. He reiterated that his tumor had been "encapsulated" when it was removed and it hadn't affected his colon or organs.
"I had cancer in a ball," Chavez said, holding up the baseball.
Later, he pitched a softball to his foreign minister outside the palace, smiling and throwing his weight behind each toss.