'Chapo' Guzmán's sons deny being behind ambush on Mexican army convoy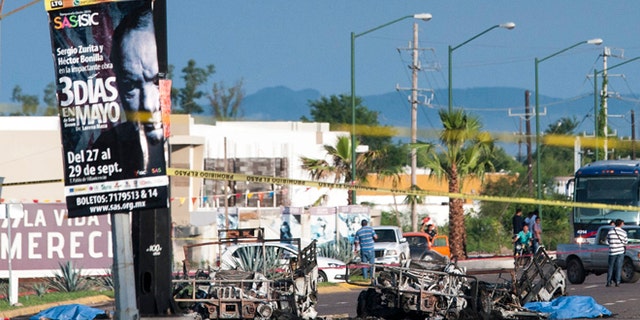 The children of Mexican drug lord Joaquín "El Chapo" Guzmán are denying they had anything to do with a recent ambush on a military convoy that resulted in the death of five soldiers, Guzmán's lawyer said Monday.
José Refugio Rodríguez said in a radio interview with MVS News that he shares the outrage of military personnel at the attack, which occurred on Friday, and that the sons of the Sinaloa Cartel chief, Iván and Alfredo Guzmán, want the ambush investigated.
"They would like to see an objective and impartial investigation to clarify the facts of the event, and they lament the death of the soldiers in carrying out their duties," Rodríguez said.
A squad of armed men attacked the convoy in the city of Culiacán, the capital of the state of Sinaloa in northwestern Mexico, in an attempt to free a wounded suspected cartel member.
It is believed that they used grenades in the attack.
On Saturday, the country's defense minister, Gen. Salvador Cienfuegos, called the attackers "sick, insane, criminal beasts."
A local military commander told reporters on Friday that he believed Chapo's sons were behind the ambush.
The Mexican newspaper Proceso asked Rodríguez why Chapo's sons felt the need to distance themselves from the attack.
"Nobody likes to be persecuted by the government for something they didn't do," he answered. "Hopefully, there won't be a witch hunt in which the military abuses its power, extracting vengeance for their fallen companions."
He further indicated that the drug lord's sons told him, "When they captured our father, we didn't do anything – so why would we now?"
Guzmán has been jailed since January 2016 at Cefereso No. 9, a high-security facility outside Ciudad Juárez, across the border from El Paso, Texas.
In August, Alfredo Guzmán, 29, was kidnapped from a Puerto Vallarta club and released a few days later. It is believed that members of the Cartel Jalisco Nueva Generación, which is vying with the Sinaloa cartel for control of portions of Sinaloa and Michoacán, were behind that incident.
The Associated Press contributed to this report.